I've been communicating with a fellow descendant of Thomas and Elizabeth (nee CANDY) TREVITHICK, however Annette is descended from their fifth child Eliza TREVITHICK, born at Lambing Flat NSW in 1862 (the year after the Lambing Flat riots). Eliza was living with her mother, Elizabeth, in the squalor of 27 Linden Lane in Sydney (on what is now the site of the demonlished brewery at Broadway) almost ten years later in 1871 when Elizabeth died of 'apoplexy of the lungs; accelerated by intempererance' - it was July and winter in Sydney. Her father Thomas was working the Tambaroora mine fields at the time. At the inquest the eldest daughter Elizabeth testified that their father had been away eight months at this stage, and that her mother was shortly to give birth (near confinement), the five youngest children all living in Linden-lane.
While it is assumed the children returned to Hill End/Tambaroora with Thomas Trevithick, the next record of Eliza is her marriage in 1878 (aged 15).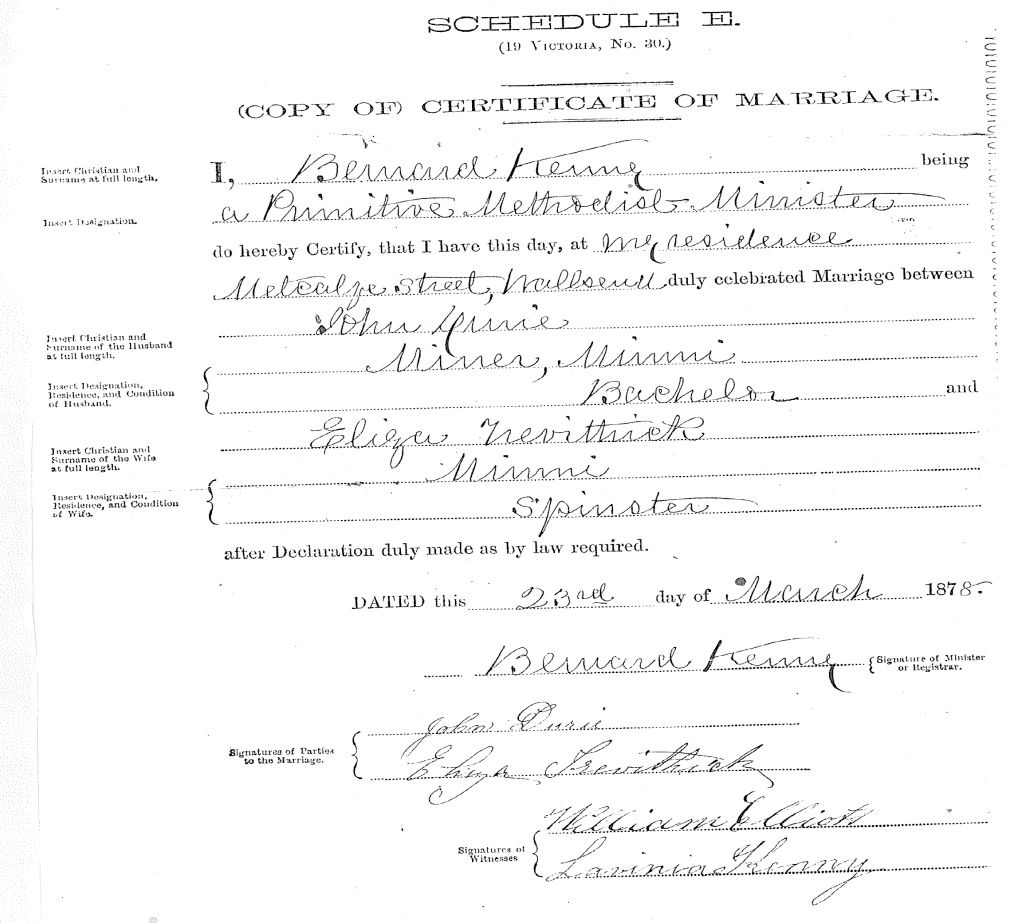 Transcript:
Copy of Certificate of Marriage
I, Bernard Kenny, being a Primitive Methodist Minister do certify that I have this day, at my residence Metcalfe Street, Wallsend duly celebrated Marriage between John Durie, Miner, Minmi, Bachelor and Eliza Trevithick, Minmi, Spinster, after Declaration duly made as by law required.
Dated this 23rd day of March 1878.
Bernard Kenny (signed)
John Durie (signed)
Eliza Trevithick (signed)
signatures of witnesses
William Elliott (signed)
Lavinia Kenny (signed)
As Eliza was below the age of 21, her father had to consent to the marriage:
The Consent of Thomas Trevithick (Father of the Bride) was given to the Marriage of Eliza Trevithick with John Durie the said Eliza Trevithick being under the age of Twenty-one years.
Bernard Kenny, Minister or Registrar.