Following from the previous entry on Rowland Edwards showng the report in the Sydney Gazette on June 4 reporting his murder (http://thehistoryofmatt.blogspot.com/2009/06/murder-of-rowland-edwards.html), the next brief article appeared in the Gazette on Saturday 25 June 1814. It reported that the accused Michael Hoollaghan (Woollaghan) and Alex Suitar had stood trial that day, and promised a full report in the next issue.
Beneath it was a brief statement that the recently captured bushranger Dennis Donovan had also been committed to trial for the murder of three people at the Hawkesbury River. Readers could not have guessed how inter-related to two brief stories would become as the weeks unfolded.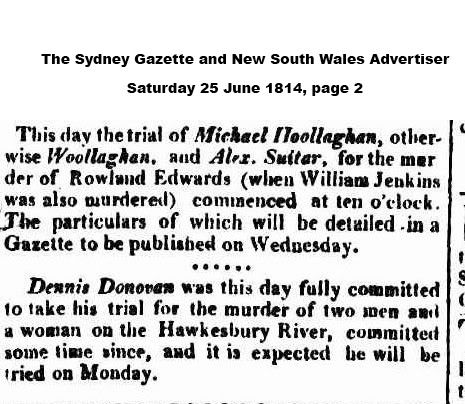 Transcript
The Sydney Gazette and New South Wales Advertiser
Saturday 25 June 1814
This day the trial of Michael Hoollaghan, otherwise Woollaghan, and Alex. Suitar, for the murder of Rowland Edwards (when William Jenkins was also murdered) commenced at ten o'clock. The particulars of which will be detailed in a Gazette to be published on Wednesday.
.....
Dennis Donovan was this day fully committed to take his trial for the murder of two men and a woman on the Hawkesbury River, committed some time since, and it is expected he will be tried Monday.