While I've previously written about William HODGE (of the 11th Regiment of Foot) and his wife Mary Ann GUTRIDGE (http://thehistoryofmatt.blogspot.com/2009/06/mary-ann-gutridge-1820-1877.html), I've not posted William's death certificate previously (I think Steve Hodge sourced it?).
The HODGE family had moved west from Sydney to Gundagai at some point after he pensioned out of the 11th Regiment in Sydney in 1850/1851. Another Hodge descendent who has done a lot of work is Margaret Guider - she was informed that William Hodge purchased Lot 15, Punch St, Gundagai in 1855 (Vol 262 Fol 1296).
William died in 1863: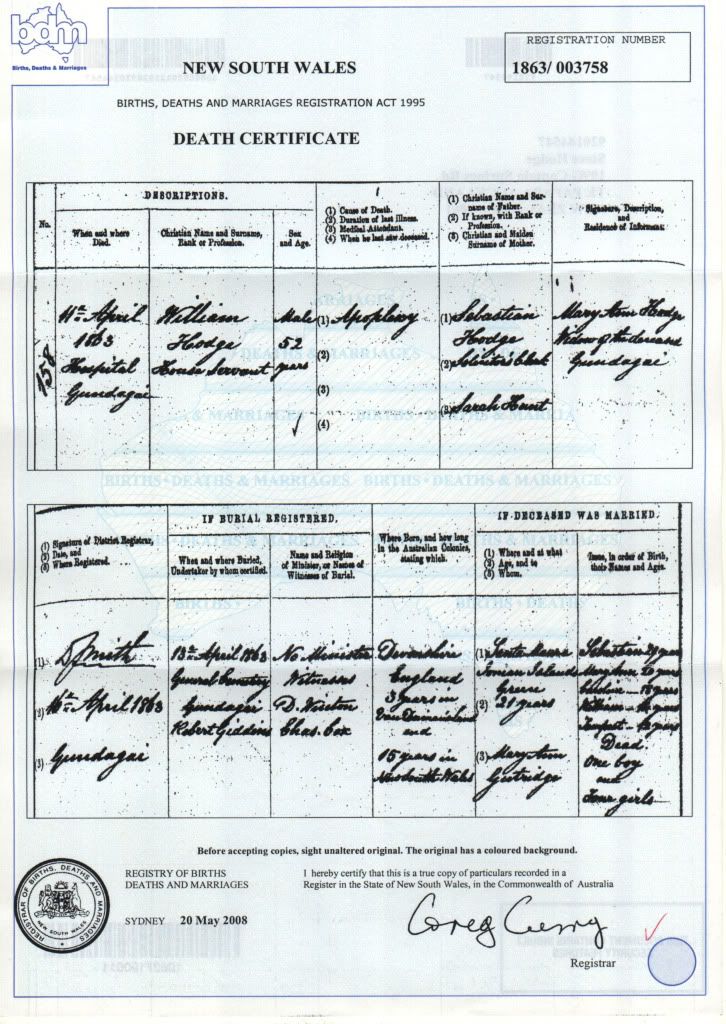 Transcript
NSW Death Certificate 3758/1863
When and where died: 11th April 1863, Hospital, Gundagai
Christian name and surname, rank or profession: William Hodge, House Servant
Sex and age: Male, 52 years
Cause of death: Apoplexy
Christian name and surname of father: Sebastian Hodge
If know, with rank or profession: Solicitor's Clerk
Christian and maiden surname of mother: Sarah Hunt
Signature, description and residence of informant: Mary Ann Hodge, Widow of the deceased, Gundagai
Date and where registered: 16th April 1863, Gundagai
When and where buried: 13th April 1863, General Cemetery, Gundagai
Undertaker by whom certified: Robert Giddons
Name and religion of minister: No minister
Witnesses: D Weston(?), Chas Cox
Where born and how long in the Australian colonies: Devonshire England, 3 years in Van Dieman's Land and 15 years in NSW
Where marred: Santa Maura, Ionian Islands, Greece
At what age: 21 years
To whom: Mary Ann Gutridge
Issue in order of birth, their names and ages:
Sebastian 29
Mary Anne 20
Caroline 18
William 14
Tempest 12
Dead: One boy and four girls
There were a number of interesting aspects that emerged from the death certificate. The occupation 'house servant' was slightly vexing - it had been suggested he may have followed gold (the gold rush was well and truly on), and he was a retired soldier. Furthermore, all their children were baptised in the Church of England, yet 'no Minister' was present to conduct his funeral and burial.
While searching the on-line newspapers in the Google News Archive, I searched the words 'Hodge' and 'Gundagai', and found the following article, published in the Brisbane Courier less than three weeks after William's death:
Transcript:
The Courier (Brisbane)
Friday 1 May 1863
A Wagga Wagga paper says :- "Mr. Hodge, for many years a color-sergeant in the army, for some time sergeant in the Sydney police, lately constable at Gundagai, and at the time of his death, keeper of the Gundagai District Hospital, died on Sunday last, it is supposed, from the effects of poison. On the morning of that day he was seen to go into the surgery in the hospital, take a draught then come out, kiss each of his children and his wife, and bid them good bye. He then returned to his bed, and never rose again."
Suicide.
There are a number of unexpected deviations from what we know about William, but also a number of pieces that fit. Steve Hodge and I have thrashed through them.
1. We haven't found anything to indicate William was a 'color sergeant' - his pension papers (http://thehistoryofmatt.blogspot.com/2009/02/william-hodge-11th-regiment-of-foot.html) list his highest rank as sergeant. Conversely, things such as rank are regularly inflated over time.
2. We do not have any other evidence that William had served in the police force in either Sydney or Gundagai.
3. William's death certificate gives his occupation as 'house servant' which doesn't match well with 'keeper of the Gundagai District Hospital', though the hospital was probably very small. The death certificate does say he died in hospital though, which would be in keeping with the family living there.
4. The Cause of Death, 'apoplexy' was a catch-all that could be used for a range of maladies, including suicide.
5. The article was published only three weeks after William's death - given that it needed to be published in Wagga Wagga before circulation and re-printing in other papers, this doesn't seem unreasonable.
6. A search of NSW BDM records reveals on one other HODGE death that year - and that was in Sydney.
A kind fellow researcher Gillian checked the Wagga Wagga papers however no issues from 1863 exist. however, the story was also re-printed in the Yass Courier (22nd April 1863) and the Goulburn Herald on a similar date, at least confirming the authenticity of the story.
This article was obviously a surprise. Police records appear to be scant from 1850 to 1863 but it may be that if William was a police sergeant in Sydney from 1850-1855 there may be clues to it in the Sydney papers (once they are digitized for this period). It also helps us fill in a large part of the 12 year gap in Hodge records from the baptism of their last child, Tempest, to William's death in 1863.