Ian Priestly (a fellow descendent through Henry Priestly 1838-1918) has found that Samuel Priestly married a second time. His married his first wife Catherine SLATER in 1840 at St James' Church in Sydney, and they had seven children, though it appears the eldest Henry was already born when they married. She died October 8th 1869
aged 55 years, and was buried at St Jude's Cemetery, Randwick.
This marriage certificate ordered by Ian shows that Samuel married again in 1871 to Louisa Frost. They married at St Jude's Randwick, which must have been their local parish as Samuel is recorded in several documents living in Botany St, which is a long road that passes from Sydney/Redfern south through Randwick.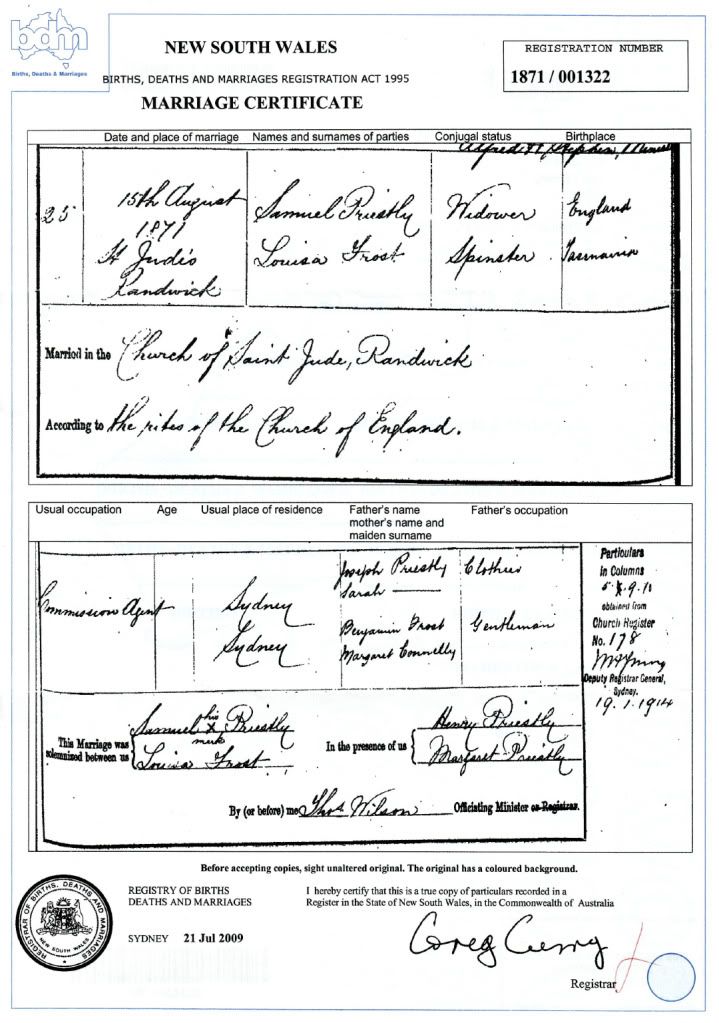 Transcript:
NSW Marriage Certificate
1871/001322
25
Date and place of marriage: 15th August 1871 St Jude's Randwick
Husband
Name and surname: Samuel Priestly
Conjugal status: Widower
Birthplace: England
Usual occupation: Commission Agent
Age: -
Usual place of residence: Sydney
Father's name: Joseph Priestly
Mother's name and maiden surname: Sarah -
Father's occupation: Clothier
Wife

Name and surname: Louisa Frost
Conjugal status: Spinster
Birthplace: Tasmania
Usual occupation: -
Age: -
Usual place of residence: Sydney
Father's name: Benjamin Frost
Mother's name and maiden surname: Margaret Connelly
Father's occupation: Gentleman
Married in the Church of St Jude, Randwick
According to the rites of the Church of England
This Marriage was solemnized between us
Samuel Priestly x his mark
Louisa Frost
In the presence of us
Henry Priestly
Margaret Priestly
By me Thos Wilson Officiating Minister
--------
A note in the certificate states that information about their birthplace and their parents was added to the certificate from the parish record book in 1914.
This certificate is important as we do not yet know about Samuel's family in Leeds, and we now learn that his fathers name was Joseph, a clothier (Samuel gave the same occupation in his arrival indent as a convict) and his mothers name was Sarah. Samuel's death certificate does not contain this information, and his earlier marriage from 1840 is not a civial registration but simply a parish record that did not take down such information.
As for Louisa FROST, the 'Colonial Tasmanian Family Links' website indicates that she was born in 1828 in Hobart. As such, she was 43 when they married and had not previously married; Samuel was 59. I have not yet found any record of her arrival in NSW. It appears that Margaret died the same year as Samuel, 1882.