RETRACTED - When I discover a post to be incorrect, I'll post a statement at the beginning retracting it. The information is 'true', but I've connected people incorrectly and they are unrelated.

In this case, it transpires there were two families in London named William and Charlotte ROBERTS, both of whom had family members come to Australia. I've italicized information that DOES relate to my Helen ROBERTS and her parents. The information not italicized relates to a different family. In hindsight, the discrepancies in the census data accounts for the fact my Helen Charlotte ROBERTS was not a child of the family discussed.
Related to my recent post on the parents of Helen Charlotte ROBERTS (http://thehistoryofmatt.blogspot.com/2009/02/parents-of-helen-charlotte-roberts.html), born 1836 London, died 1918 Sydney, I have been looking into her parents.
Familysearch IGI records show their marriage:
William ROBERTS to Charlotte Ann GANT
20 JAN 1834 at Saint Sidwell, Exeter, Devon, England
Her parents William and Charlotte ROBERTS could be found in the 1841 census:
Borough of Lambeth, Parish of St Mary, County of Surrey
Place: Mount Row
William Roberts, aged 30, Profession: Ind., not born in county
Charlotte Roberts, aged 25, not born in county
In 1851 they appear along with their children (
except for my ancestor Helen C Roberts who was visiting elsewhere
):
Willm Roberts, head, aged 44 (born abt 1807), a Commission Agent (Distiller), born Helston, Cornwal
Charlotte Roberts, wife, aged 35 (born abt 1816), born Stonehouse, Devon
W C Roberts, son, aged 9 (born abt 1842), scholar, Lambeth, Surrey
Henry Roberts, son, aged 5 (born abt 1846), scholar, St Lukes, Middlesex
Arthur Roberts, son, aged 3 (born abt 1848), Islington, Middlesex
Alfred Roberts, son, aged 1 (born abt 1850), Islington, Middlesex
The family could not be found in the 1861 census.
Helen Charlotte ROBERTS arrived in Australia around 1861 according to her death certificate, and NSW immigration records show her arriving in 1860:
ROBERTS, Ellen, aged 23, ship: Chance, year: 1860
(Ellen appears as a homophone in several records)
Along with the above children of William and Charlotte, IGI reveals another child:
IGI reveals another probable child,who may have died prior to 1841:
VALENTINE ABRAHAM ROBERTS (Male)
Christening: 28 DEC 1834 at Saint John The Evangelist, Lambeth, Surrey, England
Parents: WILLIAM RICHARD ROBERTS and CHARLOTTE ELIZABETH
So what happened to the Helen's family and siblings?
-----------------
The 1851 census states Charlotte Ann GANT's birthplace was Stonehouse, Devon - East Stonehouse formed one of three coastal towns that now forms Plymouth. IGI records show the baptism of Charlotte Ann Gant:
CHARLOTTE ANN GANT, Christening: 28 JUN 1815
Saint Andrew Ebenezer Chapel-Wesleyan, Plymouth, Devon, England
Father: James GANT
Mother: Harriet
As for William Roberts, indexes for Helston (http://freepages.genealogy.rootsweb.ancestry.com/~cricket5/hel.htm) reveal two William Roberts born in 1806:
William Roberts, baptised 8 Jun 1806, parents Tobias and Susanna ROBERTS
William Roberts, baptised 22 Jun 1806, parents Thomas and Sarah ROBERTS
William's death records may record his parents and help solve this challenge
-----------
Searching on-line I found quite an unexpected answer. I found a fellow descendent of the Gant family who pointed me to Australia:
Immigration to Victoria from British Ports 1852 - 1859
"Goldfinder" 1,380 tons Departed Liverpool 23 July 1853 and arrived Melbourne 23 October 1853
Passengers
Roberts William, 46, Shoemaker
Roberts C.A., 37, Wife
Roberts William C, 11, Son
Roberts Henry G, 7, Son
Roberts Arthur, 5, Son
Roberts Alfred, 3, Son
Roberts Charlotte, 1, Dau
So the family, including a previously unidentified daughter Charlotte (born abt 1850) arrived in Victoria in 1853. Whether or not the family followed gold (the Victorian gold rush started around 1851) is not yet known.
While the fate of the family is not yet known, William died in NSW in 1884. While the transcription provided to me has some hand-written amendments.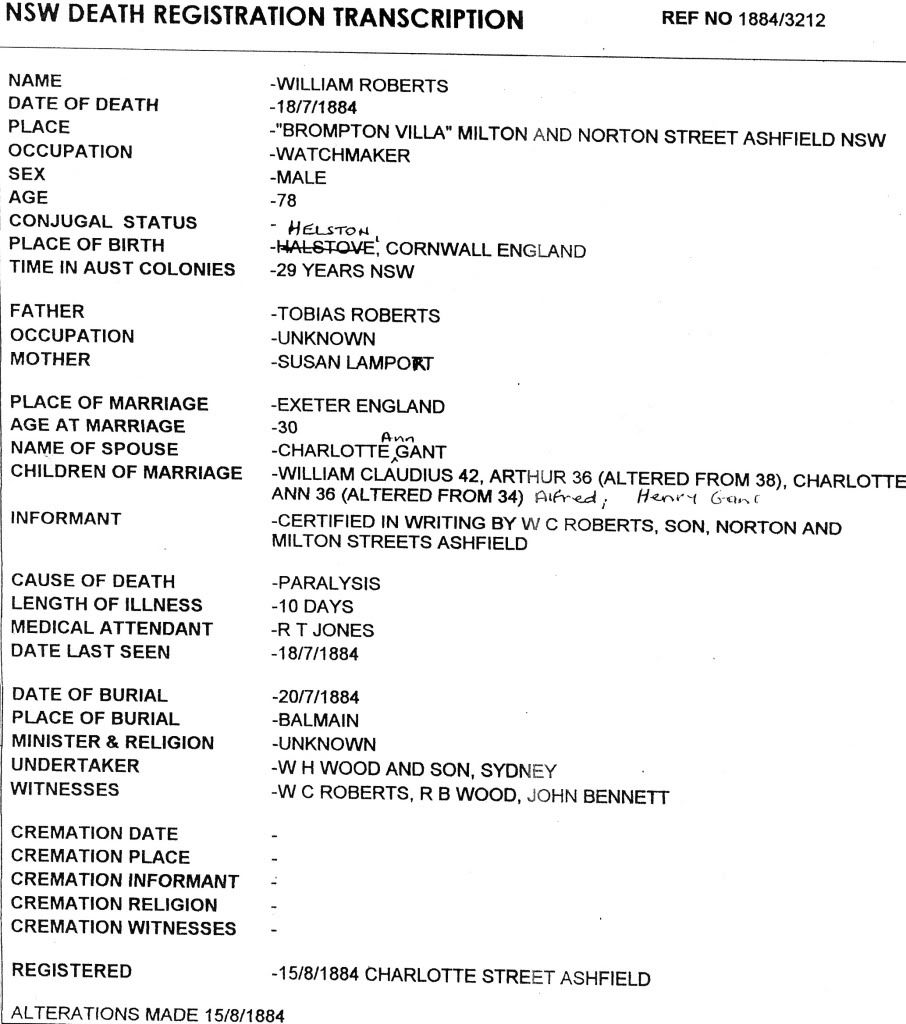 Transcript
--------------------
NSW Death Registration Transcription
1884/3212
Name: William Roberts
Date of death: 18 Jul 1884
Place: "Brompton Villa" Milton and Norton Street Ashfield NSW
Occupation: Watchmaker
Sex: Male
Age: 78
Conjugal status: -
Place of birth: Halstove, Cornwall, England
Time in Aust Colonies: 29 years
Father: Tobias Roberts
Occupation: Unknown
Mother: Susan Lampott
Place of marriage: Exeter, England
Age at marriage: 30
Name of spouse: Charlotte Gant
Children of marriage:
William Claudius 42
Arthur 36 (altered from 38)
Charlotte Ann 36 (altered from 34)
Informant: Certified in writing by W.C. Roberts, son, Norton and Milton Streets Ashfield
Cause of death: Paralysis
Length of illnes: 10 days
Medical attendant: R.T. Jones
Date last seen: 18 Jul 1884
Date of burial: 20 Jul 1884
Place of burial: Balmain
Minister & Religion: Unknown
Undertaker: W H Wood and Son, Sydney
Witnesses: W C Roberts, R B Wood, John Bennett
Registered: 15 Aug 1884 Charotte Street Ashfield
Alterations made 15 Aug 1884
-------------
There is much still to learn about the Roberts family in Australia. Finally, I'm intrigued by William's changes of occupation.
In 1841 he stated he was of 'Independent Means' (Ind.)
In 1851 he stated his occupation as 'Commission Agent (Distiller's)'
In 1853 on arrival he stated his occupation as 'Shoemaker'
In 1884 his death certificate states he is a watchmaker
Quite diverse! There is obviously much to learn about this family.