I previously wrote that my ancestor John Moloney (1841 Dromalty, Limerick, Ire - 1912 Redfern, NSW, Aus) arrived in Australia on the 'Sirocco' in October 1864, and that I'd found a sister Ellen Moloney, arrived on the 'Devonport' in 1868. I've been trying to learn more of her family.
Her arrival record: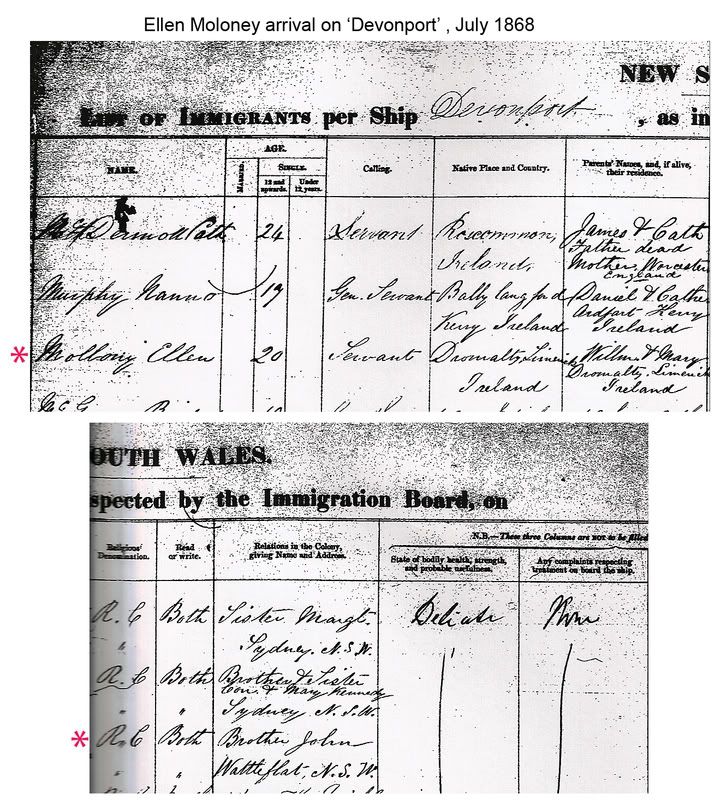 Transcript
List of Immigrants per Ship 'Devonport', Arrived on the 31st Day of July 1868
Name:

Moloney, Ellen
Single female aged:

20
Calling:

Servant
Native place and county:

Dromalty, Limerick, Ireland
Parents names, and if alive, their residence:

William and Mary, Dromalty, Limerick, Ireland
Religion:

R.C. (Roman Catholic)
Read or write:

Both
Relations in the colony:

Brother, John, Wattleflat, N.S.W.
State of bodily health:

Good
Complaints:

None
The arrival records confirms that Ellen and John are siblings, and gives several clues about their family. John Moloney was living in Wattle Flat, NSW in the gold rush area, where he was teaching; John and Ellen's parents William and Mary were still alive, and living in Dromalty, Ireland. Ellen was born abt 1848, and as such a baptism record should exist for her.
As to Ellen's fate in Australia, a NSW BDM search have revealed only one Ellen Moloney who married, and died (under her married name) with parents William and Mary. Furthermore, she died in Redfern, where John Moloney's family were also living during this period:
Marriage:
736/1873 TALLANT, GEORGE to MOLONEY, ELLEN in SYDNEY
The certificate: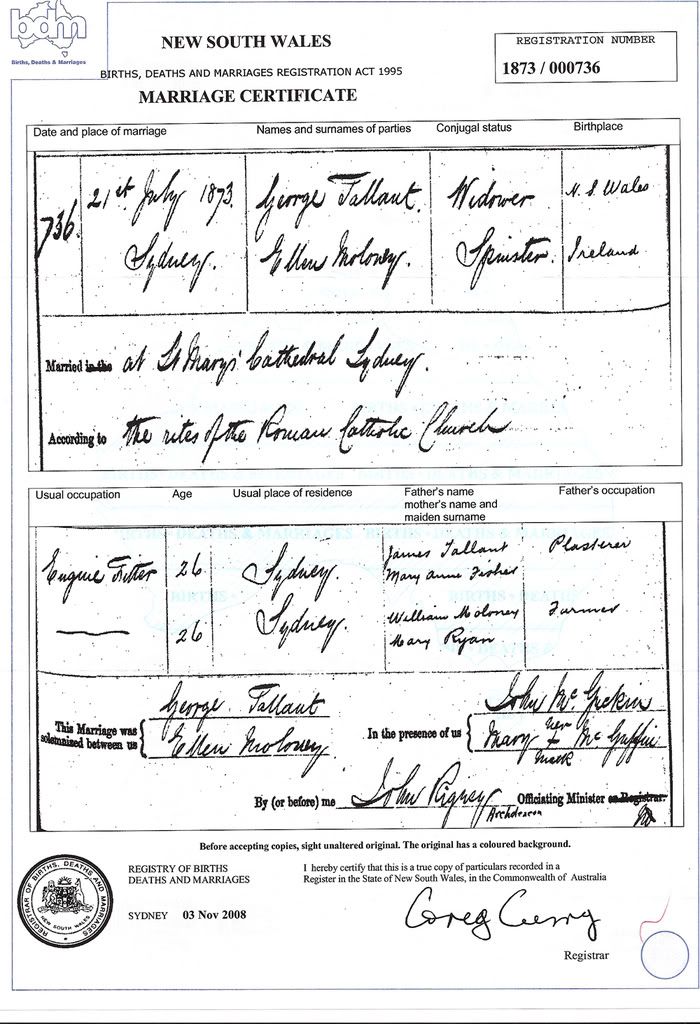 Transcript

Date and place of marriage:
21st July 1873, Sydney


Groom
Name and surname:

George Tallant
Conjugal status:

Widower
Birthplace:

N.S.Wales
Usual occupation:

Engine fitter
Age:

26
Usual place of residence:

Sydney
Father's name:

James Tallant
Mothers name:

Mary Anne Fisher
Father's occupation:

Plasterer
Bride
Name and surname:

Ellen Moloney
Conjugal status:

Spinster
Birthplace:

Ireland
Usual occupation:

-
Age:

26
Usual place of residence:

Sydney
Father's name:

William Moloney
Mothers name:

Mary Ryan
Father's occupation:

Farmer
Married at St Mary's Cathedral Sydney
According to the rites of the Roman Catholic Church
This marriage was solemnized between us
:
George Tallant
Ellen Moloney
In the presence of us
:
John McGuckin
Mary McGuckin (McGuffin?)
By me John Rigney, Archdeacon, Officiating Minister
More is to be learnt here. Ellen's husband George TALLANT was born in NSW abt 1846, and was a widower. He married Sarah SHERWIN in 1868 in Sydney, and they had one son Edward TALLANT (1870) before she died in 1871. George then married Ellen MOLONEY in 1873 - she had been in NSW for five years at this stage (her brother John was also living at Sydney at this stage). Ellen also married in St Mary's Cathedral like her brother. The marriage certificate also confirms that John and Ellen's mother was Mary nee RYAN.
As for children, the NSW BDM indicates three were born:
1.
Mary TALLANT, born 1875 Paddington NSW, married Anthony J L DE SOUZA in 1906 at Redfern NSW and died 1951 at Randwick NSW. Children not known/identified.
2.
Ellen Ambrisona TALLANT, born 1880 Sydney NSW, married Herbert Charles WEBB in 1897 at Newtown NSW and died 1942 at Bankstown NSW. Three children found in NSW BDM.
3. Margaret Georgina TALLANT, born 1881 at Redfern NSW, died 1883 at Waterloo NSW.
The 1903 NSW Electoral Roll for South Sydney (Darlington) shows Ellen TALLANT living with her daughter Mary, both with 'domestic duties' at 278 Abercrombie St Redfern (I walked past it every day for eight years going between Sydney Uni and Redfern Station). Her husband George (still an engineer) and step-son Edward are listed at 270 Abercrombie St, however this may be an error.
Ellen TALLANT, parents William and Mary, was registered as dying in Redfern in 1911 (the year before her old brother) - she would have been about 65. George TALLANT followed in 1920, also at Redfern. The Rookwood Catholic Cemetery index reveals tat George and Ellen were buried side-by-side there:
Tallant George 05/08/1920 SEC*M2*E**788 Burial ROOKWOOD
Tallant Ellen 14/10/1911 SEC*M2*E**789 Burial ROOKWOOD
Chris Moloney visited Rookwood and found her worn headstone still standing:
Rookwood headstone transcript:
"In loving remembrance of
ELLEN TALLANT
Born in Limerick Ireland
Who departed this life
2? October 1911
Aged 63 years
Rest In Peace"
Her brother was buried at Waverley Cemetery the following year. I hope to trace some of Ellen's descendents.