RETRACTED - When I discover a post to be incorrect, I'll post a statement at the beginning retracting it, or part of it. The information here is accurate regarding Helen Charlotte ROBERTS, but I've connected her incorrectly to a family in England.

In this case, it transpires there were two families in London named William and Charlotte ROBERTS, both of whom had family members come to Australia. I've italicized information that DOES relate to my Helen ROBERTS and her parents. The information not italicized relates to a different family. In hindsight, the discrepancies in the census data accounts for the fact my Helen Charlotte ROBERTS was not a child of the family discussed.
Following from the recent post on Grace SMITH (1870-1934) and her siblings (http://thehistoryofmatt.blogspot.com/2008/11/updated-photo-details-2-who-were-hilda.html), I've spent some time looking into her mother Helen Charlotte nee ROBERTS. Particularly because the prospects of finding her father William SMITH's death, or any other details for that matter, are slim for now given his name.
From her birth certificate, Grace SMITH, born 14 Mar 1870, Lower Campbell Street, Sydney to parents William SMITH and Ellen Charlotte nee ROBERTS. Ellen was in fact mis-written, and should have been Helen Charlotte - Helen and Ellen being homophones. Later certificates all state her name as Helen.
I knew the following about her mother:
Helen Charlotte ROBERTS, born abt 1836 in London, England, parents not yet identified (marriage certificate did not contain details), arrival in Australia not known. Confounding this, her marriage certificate to William Smith
at the Wesleyan Parsonage, Surry Hills on 16 Jan 1869
contained no information beyond the fact that neither had been married previously, and that William was a drayman.
According to NSW BDM indexes, Helen Charlotte SMITH died in Sydney in 1918, aged 82 years, with the fathers name ROBERTS listed (parents names were not given).
I started by ordering her death certificate:
NSW Death Certificate




1918/000094


Date and place of death: 1918 16th January, 34 Hardie St
Name and occupation: Helen Charlotte Smith, Widow
Sex and age: Female, 82 years
Cause of death: Senile cardiac disease and collapse
Duration of last medical illness: Nicholas P Elhirst, MRCS(?) Registered
When he last saw deceased: 7th January 1918
Name and occupation of father: - Roberts
Name and occupation of mother: -
Informant: A.E. Smith, Son, South Head Rd, Rose Bay, Sydney
Particulars of registration: (signed) 22nd January 1918, Sydney
When and where buried: 18th January 1918, Church of England Cemetery, Waverley
Name of undertaker: Walter Carter
Where born and how long in the Australasian colonies: London England, 57 years in NSWales
Place of marriage, age, and to whom: Sydney NSWales, 34 years, William Smith
Children of marriage:
Grace (Hodge) 47
William 45
Alfred E 43
Living
None dead

--------------------------

The death certificate confirms that Helen and William had 3 children:

1870 – Grace Smith

,

1871 – William E Smith,

1873 – Alfred E Smith

. While not stating her parents names, the death certificate also gives two important clues: that she was born abt 1836 in London, and that she arrived in NSW abt 1861. The IGI Familysearch site also revealed only one baptism for a Helen Charlotte Roberts around 1836 - in fact it appears that Helen was a relatively rare name (though the name Ellen abounds):
HELEN CHARLOTTE ROBERTS , Female Christening: 29 MAY 1836 at Saint John The Evangelist, Lambeth, Surrey, England Parents: WILLIAM RICHARD ROBERTS and CHARLOTTE

While Helen hasn't yet been found in the 1841 census, her parents and family appear in the 1851 census, living in Finsbury, Islington, Middlesex: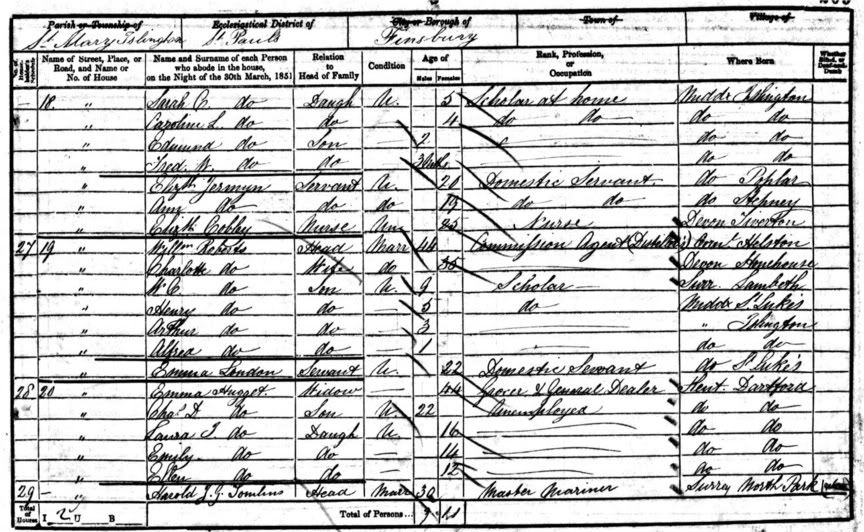 Willm Roberts, head, aged 44 (born abt 1807), a Commission Agent (Distiller), born Helston, Cornwal
Charlotte Roberts, wife, aged 35 (born abt 1816), born Stonehouse, Devon
W C Roberts, son, aged 9 (born abt 1842), scholar, Lambeth, Surrey
Henry Roberts, son, aged 5 (born abt 1846), scholar, St Lukes, Middlesex
Arthur Roberts, son, aged 3 (born abt 1848), Islington, Middlesex
Alfred Roberts, son, aged 1 (born abt 1850), Islington, Middlesex
However Helen Charlotte does not appear with her family. Instead, she is visiting with a family in Marylebone a few miles away:
Helen C Roberts, Visitor, aged 14 (born abt 1837), scholar, born Lambeth, Surrey
Her birth place matches with her next youngest sibling, and again the rarity of the name Helen assures her identification.
As for her arrival, inspection of the NSW State Archives reveals only one possible match for Helen's arrival:
ROBERTS, Ellen, aged 23. Ship: Chance, year: 1860. The ship sailed from Southhampton, England to Sydney, Australia arriving 13 July 1860.
So given these new pieces of information, her parents have been identified (the subject of another post) and the following tentative time-line can be developed:
1836: born to William and Charlotte ROBERTS in Lambeth, Surrey, England and baptised at Saint John The Evangelist, Lambeth.
1851: visiting in Marylebone, a scholar aged 14, during the 1851 census
1860: arrived in NSW on the 'Chance'
1869: married William Smith at the Wesleyan Parsonage, Surry Hills, Sydney NSW
1870: gave birth to daughter Grace SMITH, living at Lower Campbell St, Sydney
1871: gave birth to son William SMITH
1873: gave birth to son Alfred Elphinstone SMITH
1897: a widow living at 383 Liverpool St, Sydney when daughter Grace marries
1918: died 34 Hardie St, Sydney, aged 82, buried at the Church of England Cemetery, Waverley