When Samuel HALL arrived in NSW with his family on the 'Boanerges' in 1857, his immigration records state is answers to the following questions:

Name: Hall, Samuel
Age: 40 (note: this makes his birth abt 1817)
Calling: Farm Labour
Native place and country: Fenstanton, Huntingdon
Parents Names, and, if alive, their residence: William + Catherine, mother dead, father at Fenstanton
Religious calling: C.E.
Read or write: Both


Relations in the colony: Cousin Childs, residence not known


State of bodily health: Good
Remarks: 1 pound sterling

The comment that Samuel had cousins of the surname Childs did not immediately gel with the Hall family tree I had constructed. According to my tree constructed from parish records in Huntingdonshire, Samuel was the eldest son of William HALL (1794-1869) and Catherine nee SETCHELL. William, in turn, was the son of Edward HALL and Mary ?.

William Hall's marriage to Catherine Setchell at Hemingford Grey: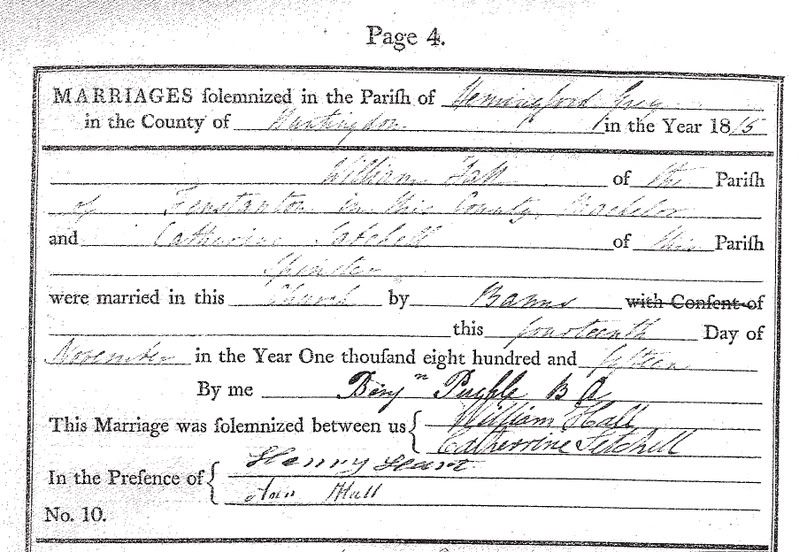 Samuel Hall's baptism in Hemingford Grey:



The main evidence for William's parents being Edward HALL and Mary ? are as follow:

1. Census entries for William HALL in 1841, 1851 and 1861 (in Fenstanton) set his birth date at about 1764 and his birthplace as Fenstanton, Hunts. Based on the William Halls baptised in Fenstanton around this time, only one matches (starred):
Date Name Sex Mother Father
1 Mar 1789 William M Phebe Israel HALL
*

6 Jul 1794 William M Mary Edward HALL


Furthermore, Israel and Phebe HALL's son William must have died, as they baptised a second son William in 1805.

2. After William's wife Catherine SETCHELL died in 1850, William remarred to at Fenstanton to Charlotte WARRINGTON. The parish register notes '

Husband's father: Edward HALL

'.



Edward (born abt 1760) and Mary

are enigmatic at this stage. Edward's birth is still being investigated - he was not baptised in Fenstanton - and his marriage has not yet been uncovered. They first appear in Fenstanton parish records in 1794, and had the following children baptised at Fenstanton:
1. William - baptized 6 Jun 1794 at Fenstantion
2. Hannah - baptized 13 Mar 1796 at Fenstanton
3. Sarah - baptized 10 Jun 1798 at Fenstanton
4. Ann - baptized 6 July 1800 at Fenstanton
5. Mary - baptized 3 Jan 1802 at Fenstanton
6. Charlotte - buried 2 Jul 1803 at Fenstanton

Few other records for Edward have been found, though my great uncle Frank states in his work that he was a shoemaker (as was William his son) perhaps from parish transcripts of the above that i've not yet sourced. In the book 'A state of the poll for the election of representatives in parliament for the county of Huntingdon', published 1818, included in the list is:
'Huntingdonshire Election, 1818
Voting at: Fenstanton
Freeholder: Edward Hall
Residence: Fenstanton
Of what freehold consists: H.L. (House and Land)'
Finally, civil registration indexes show the death of an Edward Hall in Oct-Dec 1839 in the registration district of St Ives, Cambridgeshire/Huntingdonshire, and Fenstanton records record his burial on 18 Nov 1839 aged 79 years and his wife Mary was buried at Fenstanton on 16 Oct 1820 aged 49 years. His burial gives his approximate birth date of 1760.

So, what does this have to do with CHILDS? Well, the only possible connection to the immigration record statement was a Elizabeth HALL who married Henry CHILDES on 25 Nov 1813 in Fenstanton. The name HALL and the place Fenstanton suggest that Elizabeth is an aunt of Samuel, the sister of William, and the daughter of Edward and Mary Hall. Census entries for 1841 and 1851 in adjacent Hilton, Huntingdonshire (where they lived) sets her birth date at 1891 and birth place in Fenstanton.

Confirming that Samuel must have been referring to this CHILDS family on his arrival in Australia, Mary Shortis provided me her notes in 2008 (confirmed in NSW indexes) showing that FOUR of Henry and Elizabeth CHILDS' children (all born in Hilton) emigrated to Australia:

William CHILDS, b 16 Oct 1814
Edward CHILDS, b 10 Nov 1816,
arrived on 'Una' on 22 Nov 1849
Thomas CHILDS, b. 25 Jul 1819, arrived at Moreton Bay on 'Maria Somes' on 9 Jul 1852
Samuel CHILDS, b 7 Mar 1830

Yet no baptism record for an Elizabeth Hall in the county Huntingdonshire baptism index exists to confirm the connection, nor, as stated above, do her putative parents marriage. Confusing the matter, many trees exist assigning her parentage to Israel HALL and his wife Phebe nee SMITH, who also had children in Fenstanton during the same period - this is included in many public trees, probably due to an 'ancestral file' on IGI listing the baptism as fact (no record exists) assuming she was not in fact born on 1791, but improbably born 18 years late in 1807.

I believe Elizabeth is in fact the son of Edward HALL and his wife Mary, based on the following evidence:

1. Samuel Hall states her to be his aunt, when he claims her sons as his cousins having already arrived in the colony of NSW.

2. Names of children. Elizabeth's first two children are names drawn from the family of Edward and Mary: William (brother) Edward (father). Neither name is from Henry CHILDS side of the family, and no child is named either Israel or Phebe after the alternative parents (while Israel's other children DID use his name).

3. Elizabeth's marriage certificate contains a William Hall as a witness. This alone is not evidence, however the signature is a close likeness to that of my ancestor William Hall's marriage to Catherine Setchell. Note in particular the loop at the start of the H, and the curl at the end.

Elizabeth's marriage certificate: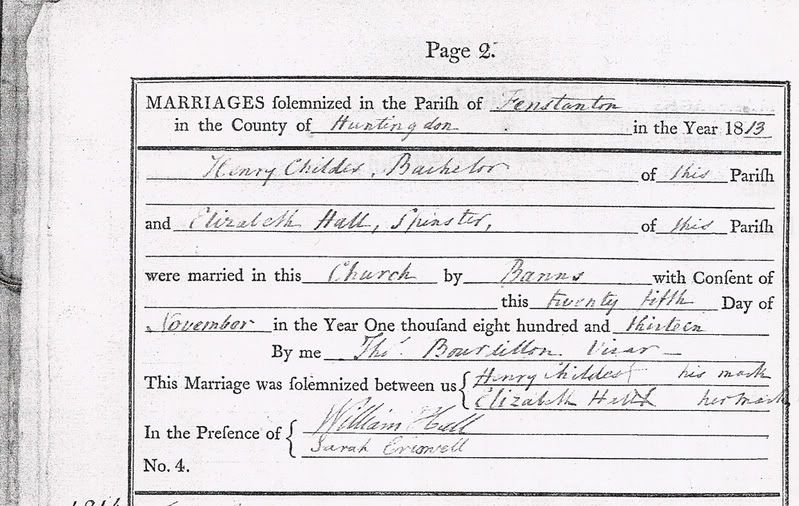 Comparison of the signatures on William's marriage and Elizabeth's marriage: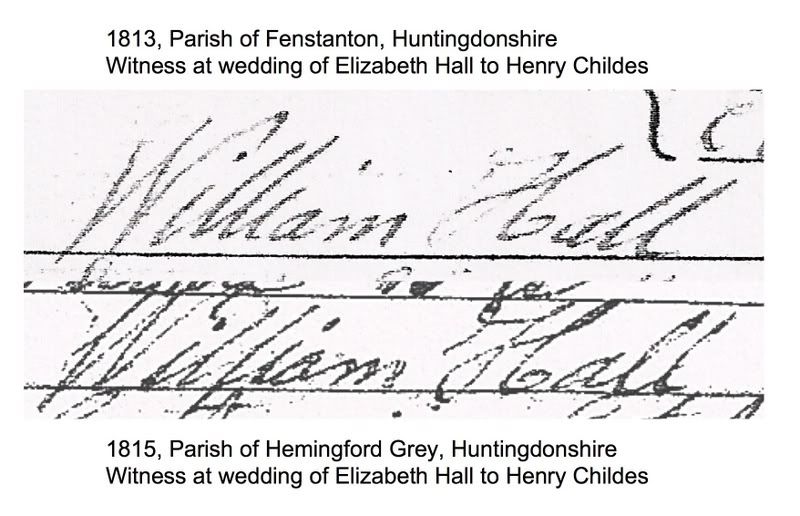 4. Finally, Elizabeth HALL's age is clear in the 1841 and 1851 censuses and supports her being born abt 1791. Israel and Phoebe could not have had TWO Elizabeth's - they baptized an Elizabeth in Fenstanton in 1807 - why would they do that if they'd had an Elizabeth in 1791 who was still living?

This evidence together argues that Elizabeth Hall, born 1791 in Fenstanton or nearby who married Henry CHILDS, was the daughter of Edward HALL (b. abt 1760, d. 1839 Fenstanton) and Mary.