Marriage certificate of my ancestors Jeremiah Joseph Ewer and Mary Ann Trevithick.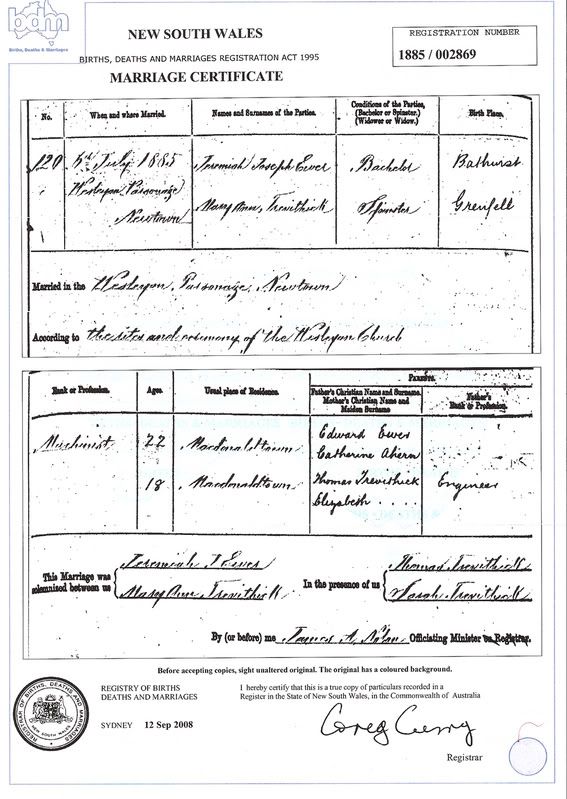 NSW Marriage Certificate 1885/002869
When and where married: 6th July 1885, Wesleyan Parsonage Newtown
Husband
Name and surname: Jeremiah Joseph Ewer
Condition: Bachelor
Birth place: Bathurst
Rank or profession: Machinist
Age: 22
Usual place of residence: Macdonaldtown
Father and occupation: Edward Ewer, -
Mother: Catherine Ahern
Wife
Name and surname: Mary Ann Trevithick
Condition: Spinster
Birth place: Grenfell
Rank or profession: -
Age: 18
Usual place of residence: Macdonaldtown
Father and occupation: Thomas Trevithick, Engineer
Mother: Elizabeth .....
Married in the Wesleyan Parsonage, Newtown
According to the rites and ceremony of the Wesleyan Church
This marriage as solemnized between us:
Jeremiah J Ewer
Mary Ann Trevithick
In the presence of us:
Thomas Trevithick
Sarah Trevithick
By me James A Nolan, Officiating minister
----------------
Jeremiah was born in Bathurst in 1864 to Edward EWER and Catherine 'Kate' nee AHERN. Mary Ann TREVITHICK was born at Grenfell in 1867 at Grenfell nine months after poet Henry LAWSON was born in the same place. By 1885 both were living in Sydney - in the case of Mary Ann she was probably living in Sydney with her brother Thomas, who witnessed her marriage along with his wife Sarah nee TEE.
Mary Ann's brother Thomas Trevithick and his family had moved to Sydney between 1883 and 1885, and stayed till about 1890 (based on the registration of children), and it is likely she was living with him. In 1886 the NSW Sands directory shows Thomas at 'Flora St McDonaldtown' - MacDonaldtown being a suburb adjacent to Newton.
How and why Jeremiah Joseph came to Sydney is not clear - all of his siblings spent their adult lives in and around Bathurst. In 1887 Jeremiah was living on 'MacDonaldtown St, MacDonaldtown' with his wife. It may be that their marriage was precipitated by pregnancy; a child is registered to them in the same year they were married:
NSW Reg/Year: 8833/1885
Father: JEREMIAH J
Mother: MARY
Where registered: Newtown
Ella was probably incorrectly transcribed, as her death was reported in 1887 in Newtown. Rookwood cemetery Methodist section has Lily Florence Ewer's burial recorded in section:4A/OC, Grave: 0002150m with a date of burial of 20 Feb 1887. In 2008 Andrew HALL visited the grave and there was no sign of any headstone remaining.
Shortly after this Jeremiah and Mary Ann moved inland to the Wellington/Bathurst area where there second child, Ruby Amelia, was born later in 1887.