My ancestor John Moloney (1841 Dromalty, Limerick, Ire - 1912 Redfern, NSW, Aus) arrived in Australia on the 'Sirocco' in October 1864. The town-land of Dromalty, near Cappamore, is a relatively small area. I recently searched the ancestry.com.au new database 'Assisted Immigrant Passenger Lists 1828-1896' for any other arrivals from Dromalty - there was only one - Ellen Moloney, arrived on the 'Devonport' in 1868.
Her arrival records arrived, and she is indeed the sister of John Moloney, as she states in her arrival record.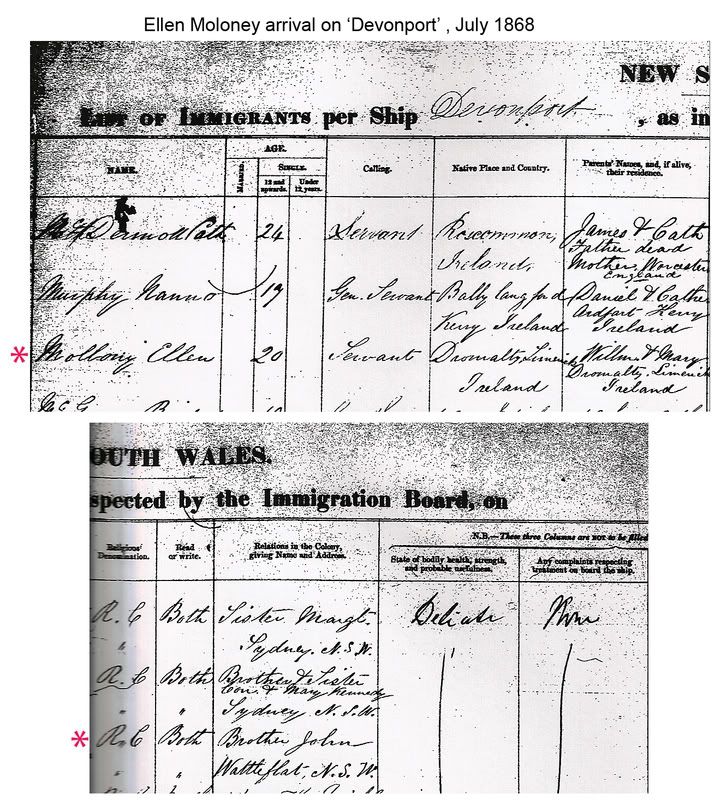 Transcript
List of Immigrants per Ship 'Devonport', Arrived on the 31st Day of July 1868
Name: Moloney, Ellen
Single female aged: 20
Calling: Servant
Native place and county: Dromalty, Limerick, Ireland
Parents names, and if alive, their residence: William and Mary, Dromalty, Limerick, Ireland
Religion: R.C. (Roman Catholic)
Read or write: Both
Relations in the colony: Brother, John, Wattleflat, N.S.W.
State of bodily health: Good
Complaints: None
This provides a number of useful pieces of information. Firstly, John Moloney was living in Wattle Flat, NSW in the gold rush area, where he was teaching. Secondly, John and Ellen's parents William and Mary were still alive, and living in Dromalty, Ireland. Ellen was born abt 1848, and as such a baptism record should exist for her.
As to Ellen's fate, initial NSW BDM searches have revealed only one Ellen Moloney who married, and died (under her married name) with parents William and Mary. Furthermore, she died in Redfern, where John Moloney's family were also living:
Marriage:
736/1873 TALLANT, GEORGE to MOLONEY, ELLEN SYDNEY
Death:
16838/1911 TALLANT, ELLEN Father: WILLIAM Mother: MARY REDFERN
Her marriage certificate should provide more information.