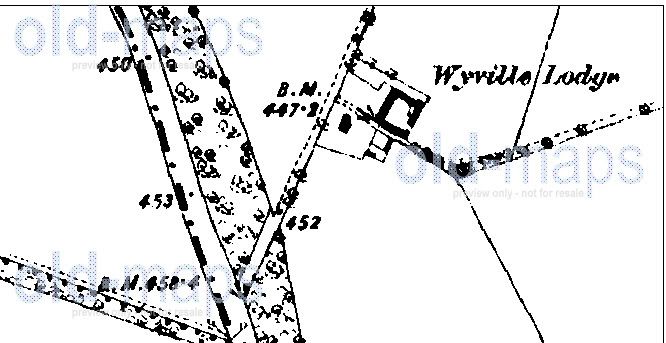 'Wyville Lodge' on an ordnance map of 1891
My great great grandfather William STANILAND was my first STANILAND ancestor in Australia, and his grandfather was George STANILAND. George was born in East Drayton, Nottingham, England on the 6th February 1783 to parents Thomas Staniland and Hannah, and he was baptized in St Peter's Church there ten days later. The Staniland name is sometimes transcribed as STANNILAND and sometimes as STANILAND, particularly prior to 1850. Thomas and Hannah had baptized a previous George Stanniland in 1778, but as was often the case, it is assumed that the first George died at an early age and that the name was recycled. Even in 1853 the White's Directory described East Drayton as 'an indifferently built village' with a population in 1801 of 256 people that was largely rural.
It is not clear what Thomas Stanniland's occupation was in this rural town, however the St Peter church account book contains many references to the bells in its bell tower, including the following entry:
"
1775 - Pd Thos Stanniland for ringing ale 3s 9d
"
which suggests that Thomas Stanniland was a brewer or hotelkeeper. There are several references in the church account book to 'ringing ale' purchased between 1738 and 1810.
It is not clear what Thomas' son George's movements were from his birth in 1783, however on 24 Nov 1808 he married Elizabeth DUFFEN at the All Saints church in the small village of Stroxton, Lincolnshire, 35 miles south of East Drayton, and he settled there as a farmer. Later census entries reveal that Elizabeth DUFFEN (also spelt DUFFIN) was born in the town of Branston, Leciestershire, 15 miles from Stroxton and the daughter of George DUFFEN and Jane FOX. Stroxton was only two miles from the small locality of Wyville that was the focus of the rest of George and Elizabeth STANILAND's life – in 1801 its population was 89.
From 1809 to 1835 (a period of 26 years) Elizabeth bore at least 13 children! All of them were christened at the same church in Stroxton where George and Elizabeth married. The children in order, with date of Christening shown, were:
George, 19 Nov 1809
Charles, 7 Apr 1811
John, 1 Nov 1812
Hannah, 11 Sep 1814
Thomas, 28 Jul 1816 (Buried 1 Sep 1816)
Jane, 13 Jun 1817
Richard, 10 Mar 1822 (Buried 29th May 1822)
Thomas, abt 1823 (no baptism found)
Richard, 25 Dec 1823*
James, 23 Apr 1826*
William, abt 1829 according to census records
Elizabeth, 7 Oct 1832
Sarah, 1 Jun 1834
* These entries as they appeared were incorrectly written/transcribed as 'STANDELINE' rather than Staniland.
Elizabeth was 45 when she gave birth to her last child, Sarah. Two children, Thomas and their first Richard, died within their first year. Interestingly, for the Christening of the first 10 children, George Staniland gave his occupation as 'labourer' and their residence was Stroxton, however for Elizabeth's Christening in 1832 (and Sarah subsequently) his occupation was altered to 'farmer' of Wyville, suggesting that he had become a landowner and moved the family to the farm in Wyville about 1832.
When the first comprehensive British census was held in 1841, the family are shown living in Wyville in Lincoln, George (50) a farmer and his wife (40), and most of their children – George, Charles and Hannah do not appear to be living with the family. Their daughter Hannah, recently married with the surname BURKETT appears with a 3 week old daughter not yet named. The population for Wyville in 1841 was 142, and White's 1842 Directory lists only five families living in the Parish of Wyville, including STANILAND.
The 1851 England census contains greater detail about inhabitants, showing George to be 66, born in 'East Drayton' (Deaton), and a 'Farmer of 250 acres, Employing 4 Labourers'. George's wife Elizabeth nee DUFFIN was 60, born in Branston, Leicester. Four of George's sons are living at farm, John (37), Richard (27), James (24), William (22), and all give their occupation as 'Employees at Home', working at the farm, and daughters Elizabeth (18) and Sarah (16) are also living at the farm – all children were unmarried. Wyville Lodge appears to have been quite a large property – there were three visitors in 1851; George's daughter Hannah BIRKETT nee STANILAND, already widowed at 32 (she married in 1840) and her son Henry BIRKETT, 9, a scholar. Also visiting was another grandchild Mary Ann STANILAND, age 2, born in Spittlegate, Lincolnshire – her father was George STANILAND Jr. George and Elizabeth also had two 'general servants' living at the property, John DUFIN and Ann ISACKS. John DUFIN, born in Leicester, is probably related to Elizabeth nee DUFFIN, and another DUFFIN figures into the family at a later date.
Parish registers show that Elizabeth STANILAND passed away in May 1859, aged 71, abode Wyville. She was buried at the St Mary & St Peter church in nearby Harlaxton.
Given the loss of Elizabeth, George STANILAND is listed as a widower born in East Deaton in the census of 1861 - his last. His farm is described as 'occupying 240 acres, employing 1 labourer + 1 boy'. A total of eleven people were now living at 'Staniland Lodge' in Wyville cum Hungerton. The only son remaining on the farm was John (45) described as a 'farmers son', and two daughters remained on the property, Elizabeth (27) an unmarried housekeeper and Sarah DUFFIN (25), the youngest, who had married William DUFFIN in 1856 and appears to be have moved there with her three children Elizabeth (5), Sarah (3) and Hannah (1) as Sarah and Hannah were both born at Wyville Lodge. William, Sarah's husband, is shown working at his fathers farm in nearby South Croxton, Leicestershire, and tracing the family I have found that Sarah and her husband were in fact cousins – Sarah's mother Elizabeth DUFFIN and William's father George DUFFIN were siblings. George's grandson Henry Birkett (19) was still living and working on the farm – his parents appear to have both died already. Three servants also worked at the property – farm servants Joseph Jones (17) and John Smith (14) and house servant Sarah Batty (17).
At this stage George and Elizabeth's remaining children not mentioned above had moved farther afield and established their own families:
George (52), a farmer of 40 acres living in nearby Grantham with his wife Mary Ann and children.
Charles had died in 1855, his wife Frances now living in Birmingham with their daughter Elizabeth.
Jane, living in Victoria, Australia (see below).
Thomas, an 'agricultural labourer' living in West Deeping, Lincolnshire with his wife Jane and children.
Richard (36), publican at 'The Boat' in nearby Melton Mowbray, Leicestershire, with his family.
James (36), a farmer of 40 acres employing one boy, living in Fleet, Lincolnshire with his wife Frances nee COATES and children.
William (32), living in Whissendine, Rutland at 'The Grange' with his family, a farmer of 237 acres employing one labourer and one boy.
It is interesting to note that the majority of George's sons became farmers like himself, though Richard was a publican (and his older brother George had previously been so) in keeping with the probable occupation of his grandfather.
Parish registers then show that George STANILAND passed away in January 1865, aged 81, abode Wyville. He was buried at the St Mary & St Peter church in nearby Harlaxton, Lincolnshire on 13 January 1865. George's will shows that he died on the 10th of January, and a great deal can be learnt of the family relationships and the fate of his children from this document:
'1. The Testator George Staniland was late of Wyville Lodge in the Parish of Wyville in the County of Lincoln Farmer, and died on the 10th day of January 1865 at Wyville aforesaid.'
'2. This is the last will and testament of me George Staniland of Wyville Lodge in the County of Lincoln, Farmer. I give and bequeath to my daughter Elizabeth Staniland the sum of two hundred pounds and to my daughter Sarah the wife of William Duffin the sum of two hundred pounds and I give and bequeath to my daughter Jane the wife of Charles Growke now residing in Australia the sum of two hundred pounds if and when she shall return to England to be paid to her for her own sole and separate use at the end of six calendar months after her return to England. But if she shall not return to England then I give and bequeath the sum of two hundred pounds to my said daughters Elizabeth Staniland and Sarah Duffin equally to be divided between them and to be paid at the end of twelve calendar months after the decease of my said daughter Jane Growke. And I give and bequeath to my son George Staniland the sum of fifty pounds I also give to my grandson Henry Birckitt the sum of eighty pounds which I consider to be in full satisfaction and discharge of the money which his deceased Mother entrusted to me for him and having already provided for all my other children to the best of my ability I give and bequeath all the residue of my personal estate and effects whatsoever and whomsoever subject to the payment of my debts funeral and testamentory expenses and legacies unto my son John Staniland absolutely and I appoint my said son John Staniland sole Executor of this my will and hereby revoking all other wills by me at any time heretofore made I declare this to be my last will and testament this twenty eighth day of July one thousand eight hundred and sixty. George Staniland. Signed by the said George Staniland the testator as and for his last will and testament in the presence of us present at the same time who at his request in his presence and in the presence of each other have hereunto subscribed our names as witnesses - Robert Azlack White, Solicitor Grantham, John Hunt, Clerk to Mr White.'
George's will allowed a number of the family connections described above to be confirmed. Elizabeth remained unmarried in 1865 and Sarah was now married to William DUFFIN (her cousin from her mother's side). While the details of his daughter Jane's situation are described below, another detail, conspicuous by its absence, is the number of children not mentioned in the will. His daughters Elizabeth, Sarah and Jane (conditionally) are provided for, and his daughter Hannah pre-deceased him, his grandson Henry Brikett instead benefiting 'in full satisfaction and discharge of the money which his deceased Mother entrusted to me for him'. The only sons named in the will were George and John, who was appointed executor and was left all residual of the estate. John appears to have not married, and lived at the Wyville farm with his father (much like his sister Elizabeth). Those who do not appear directly in the will, James, Charles, Thomas, Richard and William were apparently '
already provided for … to the best of my ability
', and their respective farms described above must attest to this.
Intriguingly, George's daughter Jane was stated to be living in Australia at the time of his death married to Charles Growke, and it appears he did not support her choice of husband, or colony, as she could only claim her two hundred pounds if she returned to England, and then the money would be for her '
her own sole and separate use at the end of six calendar months after her return to England
'. The time limit was obviously incorporated to ensure Jane returned to England, and stayed there. This clue was of particular interest to me as it was assumed that when my ancestor William Staniland (son of James) arrived in Australia about 1883 that he was the first Staniland to do so – certainly there was no indication of other Staniland's in NSW, yet George's will was proved in 1865.
Initially the marriage of Jane Staniland could not be uncovered, nor could the arrival of a 'Growke' family to the colonies of Australia. This was made more complicated by the fact that Jane Staniland could not be found in the 1851 England census (this is still the case). British marriage indexes ultimately revealed that Jane had married 'Charles GROCUTT' in 1855 in Nottinghamshire, and the couple then appeared on the inward passenger list for Victoria, Charles and Jane GROCUTT arriving on the 'Donald Mackay' in July 1859. Two years later, the birth of a son, Charles Samuel GROCOTT was registered in Geelong, near Melbourne in Victoria, born 8th Dec 1861. The birth certificate confirms Charles' birthplace as Branston, Leicester and his occupation was given as shepherd. Jane's maiden name is confirmed as Staniland, born in Wyval Lodge (sic) Lincolnshire and gives their date and place of marriage as 5th April 1855 in Nottinghamshire, England. The certificate also mentions that the couple had one previous child who was deceased, but Charles Samuel is the only Grocutt birth or death in the Vicorian BDM index.
It can only be assumed that news of the stipulations in the will of George Staniland reached Charles and Jane in Australia and prompted their return home, as six years after the death of her father, Jane GROCUT appears in the 1871 census with her husband and son, living in Gunby, Lincolnshire (a few miles from Wyville), Charles a farmer of 116 acres. Jane died in early 1881, and the 1881 census a short time later shows Charles as a widower with his son, and Jane's brother Richard Staniland visiting hem. In the space of 25 years, Jane married Charles Grocutt (1855) and sailed to Victoria with him (1859), where they had a son Charles Samuel (1861), and after Jane's father George died (1865) the family returned to England, presumably to gain her inheritance.
As a final twist, it seemed that perhaps the anomalous spelling of 'Growke' in George Staniland's will indicated a lack of familiarity with his son-in-law, however the parish transcripts for Branston, Leicester, reveal the baptism of Charles GROOKES in 1826 to Richard and Jane, and this spelling varied through his life as GROCUT, GROCOT, GROCOTT and GROCUTT. Furthermore, the marriage of Charles' parents in 1816 reveals that Charles' mother was Jane Duffen – yet another sibling of George Staniland's wife Elizabeth Duffin! So two Staniland children married their cousins; Hannah Stanliand to William Duffin in 1856, and Jane Staniland to Charles Grocutt in 1855.
Finally, the fate of Wyville Lodge after being the home of the Staniland family from around 1832 till his death in 1865. In 1871 sons John, 57 (still unmarried) and George (42) are joint tenants of a farm of 240 acres, but by 1881 it seems John had deceased as only William lived at the farm of '339 acres including 5 men and 2 boys' with his wife Lucy, children and labourers – records indicate John probably died in 1877. William and Lucy still lived at Wyville Lodge in 1891, but the 1901 census for Hungerton cum Wyille shows no 'Wyville Lodge', nor do any Staniland's live there – William had deceased and Lucy was living at 54 The Nook, Croxton Kerrial, a widower living next door to her son. It appears that with William's death, 'Wyville Lodge' passed from the Staniland family to others.
'Wyville Lodge' from a recent ordnance map
A modern odrnance map (above) still shows a 'Wyville Lodge', about a mile south-west of the village of Wyville, near what appear to be other properties, 'The Beeches' and 'Egypt Plantation'. I hope to write to the address and ascertain whether the original property still stands.
I also need to try and obtain photos of headstones of George and Elizabeth Staniland in Harlaxton parish cemetery.