Saturday 12th August 1911

Obituary
Mr Isaac Castles

The death on Wednesday at the District Hospital from senile decay of Mr Isaac Castles remoes on of the pioneer farmers of the district, he having selected and settled on a piece of land a few miles from Cowra many years ago, when farming was in its infancy in this district, and since then he had continuously resided there. He was a native of Reading, Berkshire, England, where he first saw light 87 years ago. In 1844 he married Miss Harriet Lewis, who predeceased him by a lenthy period, and by whom he had issue two sone (Jacob and Charles) and three daughters, one of the latter having died many years back. He came to Australia in 1857, this he was a colonist of 60 years standing. He was of a genial, kindly disposition, very unobtrusive, and the possessor of many good qualities which won for him the respect of many friends. Our sympathies are freely extended to the mourning family.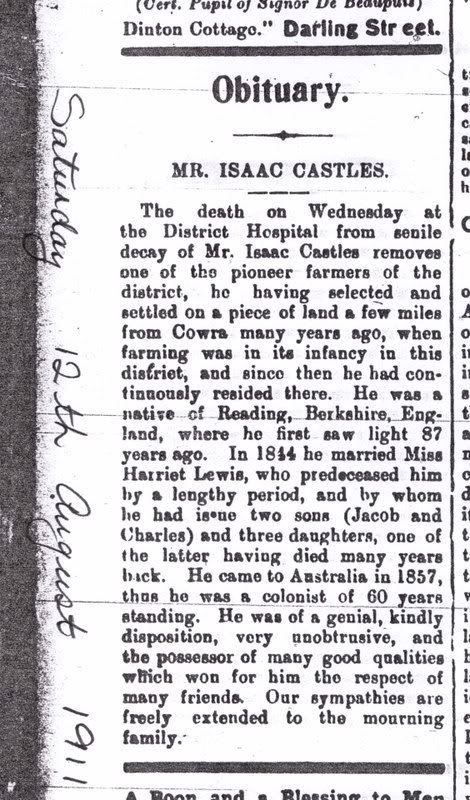 ------------

I've written a number of entries on trying to find the death of my ancestor Harriet CASTLE nee LEWIS. I've consructed a basic time-line to help, and tried every permutation of spelling in the NSW BDM, and have not found her death, or even a potential alternative marriage.
Using electoral rolls, birth certificates, the NSW BDM data, and what I already knew, here is a time-line of Harriet CASTLE nee LEWIS - it is contracted to show only key events emphasising the last event I have for Harriet.
5 Feb 1855 - Married to Isaac CASTLE at St Giles Church, Reading, England
24 Feb 1856 - First child Alice Ann christened at East Hendred, Berkshire, England
2 Dec 1856 - Embarked from Southampton, England on the 'Beejapore' with family
1957 - Daughter Mary Ann died on voyage
14 Mar 1857 - Arrived in Sydney, NSW
25 May 1857 - Birth of daughter Alice Ann in Enmore, Lewisham, Sydney, NSW. Isaac's occupation is labourer. (ref: Alice Ann CASTLE birth certificate)
1859 - 1866: Birth of children in Bathurst/George's Plains NSW
1871 - Residence: George's Plains (ref: 1871 NSW Electoral Roll, West Macquarie)
Apr, May 1872 - Birth and death of twin sons Isaac and Abraham on separate days in May, died at Apsley, buried at George's Plains NSW. (ref: Bathurst Lonely Graves register)
1878 - Residence of Isaac CASTLE: Milton (ref: 1878 NSW Electoral Roll, West Macquarie)
30 Oct 1884 - Isaac CASTLE, a laborer, registers as insolvent at George's Plains near Bathurst (ref: State Archives insolvency index)
1903 - Residence: Walaroos, Harriet not present (women were eligible to vote from 1902 onwards) (ref: 1903 NSW Electoral Roll, Cowra)
9 Aug 1911 - Isaac CASTLE Death, Cowra Hospital. Residence: Wallaroos, near Cowra (ref: Death Certificate)
1911 - Buried Cowra Church of England cemetery
This is a fairly complete time-line, and allows me to track Harriet somewhat.
What I can say is that Harriet does not appear on the 1903 electoral roll with Isaac when women were allowed to vote. The fact that other women from the property are on the electoral roll reinforces to me that Harriet was either no longer alive, or not there.
I wondered if Isaac's obituary would reveal more, and been lucky enough to be sent a scan from a Cowra paper for Saturday 12th August 1911 that reveals that by 1911 Harriet had been dead a considerable period of time. Back to the NSW BDM indexes! The crucial point for me is that every birth and death of a child of Harriet and Isaac is recorded officially, so Isaac MUST have reported his wife's death also. I also learn a great deal about Isaac here too - which is wonderful to read.