I've not written a great deal yet on Samuel PRIESTLY. According to his arrival indent, Samuel Priestly was sentenced in the York Leeds Quarter Sessions on 15th April 1833 for picking pockets. The 'York Herald' of Sat 18th May 1833 reported that "the following convicts were removed from York Castle to undergo their respective sentences of transportation:- .... for 14 years: Samuel Priestley.... to be delivered on board the Cumberland and York Hulks at Chatham and Gosport".
Convict per "Aurora"I(1), arr. Sydney 03.11.1833
33-2913 / 285 / Samuel Priestly / aged 21 / clothier / b. YKS / single / Prot. / able to read / offence: picking pockets / trial: York (Leeds) Quarter Sessions, 15.04.1833 / sentence: transportation for 14 years / prior conviction: 6 months [gaol] / 5'3" / brown complexion / brown hair / hazel/grey eyes / scar over right eyebrow; small hairy mole, left jaw; S A M, back of lower left arm; S P, back of left hand
Samuel married Catherine SLATER in 1840 in Sydney. She had arrived on the 'William Metcalfe' in Van Dieman's land in 1837 from London, part of the London Emigration Committee. The committee was condemned for its selection processes in what was seen as a plot to transplant immoral women and the sweepings of British and Irish workhouses and charitable institutions to colonial society. A book published by Liz Rushen 'Single & Free: female migration to Australia 1833-1837' describes the program. Elizabeth Slater also emigrated on the William Metcalfe, and it is believed that they were sisters - they were listed together in the ship's indent (which wasn't strictly alphabetical); they are two years apart in age, and both married in Sydney, at the same church, in 1840. The parents and birthplace of Catherine and Elizabeth SLATER have not yet been uncovered.
My ancestor, Henry Priestly, was born abt 1838, two years before Samuel Priestly and Catherine Slater married. His marriage cert states his parents as Catherine and Samuel and that his was born in Sydney, but there is not baptism record for a Henry Priestly in this period, so at this stage it's unclear if Samuel was Henry's biological father. If not, he was certainly accepted by Samuel, and entered his trade as a commission agent.
Samuel established his merchant and commission agent business (or at least the business that remained established) in 1844. This is evidenced by an advert in the 'Maitland Mercury & Hunter River General Advertiser' in 1882 (the year Samuel died).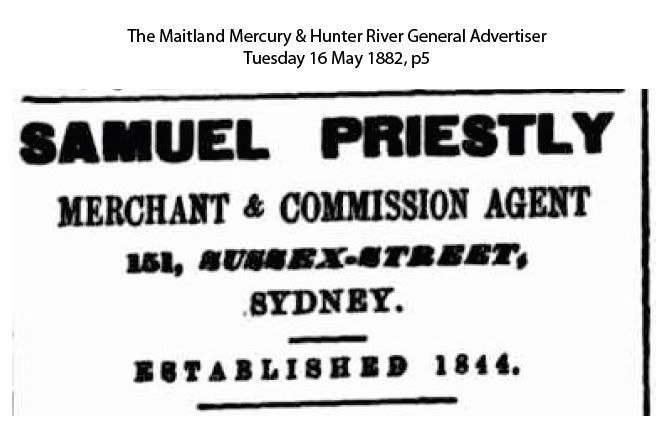 Three years after he received Certificate of Freedom number 47/0369. A Certificate of Freedom stated that the convict was now a free person and could seek out employment or leave the colony. Samuel obviously chose not to. I was recently contact by a fellow Samuel Priestly (1812-1882) and Heny Priestly (1838-1918) descendant, Ian Priestly. He has been researching his PRIESTLY history also, and he kindly forwarded me Samuel's Certificate of Freedom.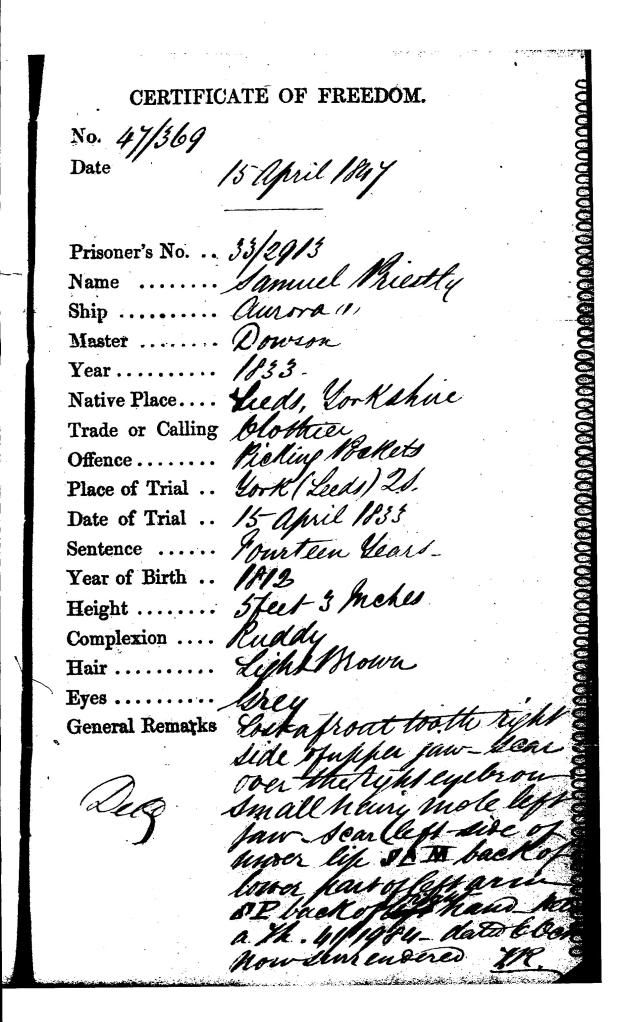 Transcript
CERTIFICATE OF FREEDOM
No.: 47/369
Date: 15 April 1847
Prisoner's No.: 33/2913
Name: Samuel Priestly
Ship: Aurora
Master: Dowson
Year: 1833
Native Place: Leeds, Yorkshire
Trade of Calling: Clothier
Offence: Picking Pockets
Place of Trial: York (Leeds) QS
Date of Trial: 15 April 1833
Sentence: Fourteen Years
Year of Birth: 1812
Height: 5 Foot 3 Inches
Complexion: Ruddy
Hair: Light Brown
Eyes: Grey
General Remarks: Lost a front tooth right side of upper jaw - scar over the right eyebrow - small hairy mole left jaw - scar left side of upper lip - 'S A M' back of lower part of left arm - 'S P' back of right hand - ### 41/1984 - dated ### now surrendered.