I recently made contact with Philip Bell, a fellow Robinson descendent. My ancestor John Snape married Mary Robinson and they had numerous children including Ann and Lucy Snape who came to Australia together. I'd had trouble piecing together more of this family than their England census information yielded, partly because of the commonality of the name John and Mary SNAPE. Philip Bell is descended from Mary Robinson's sister, and has done a lot of work piecing the family together.
Philip was kind enough to agree to post what he'd uncovered:
THE ROBINSON FAMILY

My interest in John Snape and Mary Robinson is a lateral one, since Mary Robinson, the wife of John Snape and mother of Ann & Lucy Snape, was the sister of my great-great-grandmother, Elizabeth Robinson. I usually try to follow the siblings of my direct ancestors for one or possibly two generations in order to get a better picture of the kind of lives they led. William Robinson, the father of Elizabeth & Mary, is my gt-gt-gt-grandparent.
The known Robinson line begins with the marriage of Thomas ROBINSON and Margaret WINDSOR on 2 Nov 1747 at the church of Holy Cross and St. Giles, Shrewsbury. They are believed to be the parents of Thomas ROBINSON, who was baptized 3 Jan 1752 at Tibberton, Shropshire and who married Mary FLETCHER at Edgmond, Shropshire on 19 Aug 1779. Tibberton is a chapelry within the parish of Edgmond; although baptisms and burials took place there, marriages were performed at the parish church in Edgmond. William ROBINSON, son of Thomas and Mary Robinson of Cherrington Mill, was baptized on 4 Apr 1784 at Tibberton, and married Mary MADDOX on 1 Dec 1814 at Hodnet, Shropshire.

Children of William and Mary Robinson:
Lavinia bap. 24 Sep 1815, Tibberton, Shropshire.
James bap. 15 Dec 1815, Tibberton, Shropshire; d. 26 Sep 1819, Tibberton, Shropshire.
William bap. 5 Apr 1818, Tibberton, Shropshire.
Margaret bap. 13 Feb 1820, Tibberton, Shropshire; m. Robert Upton, Tunstall, Staffs, 23 Dec 1847.
Anne bap. 28 Jul 1822, Tibberton, Shropshire; m. James Lawrence, 26 Sep 1847, Wolverhampton, Staffs; d. 1895.
Jane bap. 23 May 1824, Tibberton, Shropshire.
Elizabeth bap. 31 July 1826, Tibberton, Shropshire; m. Jethro Plant, 25 May 1851, Norton-in-the-Moors, Staffs.
Thomas bap. 17 Aug 1828, Dawley Magna, Shropshire.
Mary bap. 24 Oct 1830, Dawley Magna, Shropshire; m. John Snape, 25 Nov 1850, Burslem, Staffs.
Ann (Maria?) bap. 4 Aug 1833, Chetwynd, Shropshire.
Eliza bap. 24 May 1835, Chetwynd, Shropshire; m. James Jeffreys, 1859, Burslem, Staffs; d. 1895, Goldenhill, Staffs.
George b. 1840, Newport (?), Shropshire.

William became a miller like his father and remained at Cherrington Mill until some time after the birth of his sixth child, Elizabeth. The family then moved to Dawley Magna, where Thomas and Mary were born, and then to Chetwynd. The baptisms of two more children are recorded in Chetwynd, those of Ann and Eliza. The birth of a second Ann poses a problem since there was already an Ann in the family, who is known to have survived. Furthermore the 1841 census records the presence in the family of seven-year-old Maria, for whom no baptism can be found, but no second Ann. For the present, the simplest explanation is that the second Ann has become known as Maria.

William and Mary Robinson's last child, George, was born in 1840. By that time the family had moved again, to Hopstone, a township in the parish of Claverley, Shropshire, about 5 miles east of Bridgenorth. They were still there for the 1841 census, at which time five of the six youngest children were still in the household (Elizabeth, Mary, Maria, Eliza and George - Thomas was missing and may have died at an early age). Two other daughters were in service in the same parish, Jane working in Hopstone and Ann in Upper Aston. Levinia had remained in Cherrington and was working for her uncle, James Robinson, 45, a farmer. Levinia had an illegitimate child, James, who was baptized 27 Jan 1841 in Tibberton. James was living with his aunt and uncle, Anne and James Lawrence, in 1851 and was an apprentice tailor.

William Robinson moved to Tunstall in the Potteries during the 1840s, probably before 1847. It is not clear whether Mary died in Shropshire before this move or subsequently in North Staffordshire. She was not a member of William's household on the night of the 1851 census, but that census does list him as married, not widowed. He was living at High Street, Tunstall with his daughters Elizabeth and Eliza, though Elizabeth was to marry Jethro Plant in less than two months time. William was still working as a miller, and Eliza had found work in the pottery trade as a dish maker. Eliza probably kept house for her father until he died; William Robinson is believed to have died in 1858.

William Robinson Jr, the eldest son of William and Mary, remained in Shropshire or nearby all his life. He married Harriet Rogers in Wolverhampton in 1839 and remained there during the early 1840s, working as a bricklayer. The family moved frequently; they were in Newport, Shropshire in 1851, Edgmond in 1861, Hadley, in the parish of Wellington in 1871, and in Church Aston in 1881. By this time his sons James and William, who were both unmarried, had joined him in the bricklaying trade. William Robinson died in 1889 in Wellington, Shropshire, but his widow survived into the twentieth century. She lived with her unmarried son Thomas, a house painter, in Wellington until 1901 at least.

The majority of the children appear to have moved to the Potteries with their parents, since they married men from that area. Margaret Robinson married Robert Upton, a fishmonger, at Christ Church, Tunstall on Dec 23, 1847. Ann had married James Lawrence, a tailor from Burslem, just three months earlier on 26 Sep 1847. James Lawrence was born in Market Drayton, but was working as a tailor in Burslem by 1841, so it is somewhat surprising that the marriage took place in Wolverhampton – perhaps he was working or visiting there and met Anne at her brother William's house in Wolverhampton, or while the family was still living in Claverley, which is only a few miles south-west of Wolverhampton. The Lawrence family lived in Burslem for more than twenty years before moving to Smallthorne some time before 1881. Anne Lawrence died in Smallthorne in 1895 at the age of 73 and James in 1899 at 89.

Mary married John SNAPE in 1850 at St. John's Church, Burslem (see below). He was a sawyer who was born in Yoxall, Staffordshire. The Snapes were living at Bourne's Bank, Burslem in 1851, with their first child, two-month-old Sarah Ann. By 1861 they had moved to 27 Peel Street, Burslem, where they remained through 1871. By that time their family had grown to eight – seven girls and one boy (Sarah Ann, Jane, Elizabeth, Mary, Ann, Lucy, John and Maria)! They must have spent some time during the 1850s in Burton-on-Trent, since that town is listed as Jane's birthplace on both the 1861 and 1871 censuses, and they had returned there by 1881, at which time they were living at 27 Cross Street, Burton-on-Trent. John Snape's occupation was listed very specifically as "pit sawyer" – a very physically demanding job. Mary Snape died in the course of the next ten years, and by 1891 her widowed husband was back in the Potteries, living at Albion Street, Burslem with his youngest daughter Maria, and his son John, daughter-in-law Catherine (Catherine Wallbanks, who had married John Snape Jr at St. John's Church, Burslem in 1890) and grandson William. John Snape Sr died in Burslem in 1900 at the age of 72.

Eliza married James Jeffreys, a potter, at St. Paul's Church, Burslem in 1859. In 1861 the Jeffreys and their one-year-old daughter Mary were living at 36 Albion Street, Burslem, just four houses away from Eliza's sister, Elizabeth Plant, suggesting that Elizabeth and Eliza had remained close. By 1871, however, the Jeffreys had moved to High Street Goldenhill, where James was a potter and dealer in earthenware and subsequently (1881) a coal dealer. By the time of the 1891 census, Eliza was a widow (James Jeffreys died in 1886) and an "eating house keeper". Eliza died in 1895.

Philip also provided the marriage certificate for John SNAPE and Mary ROBINSON: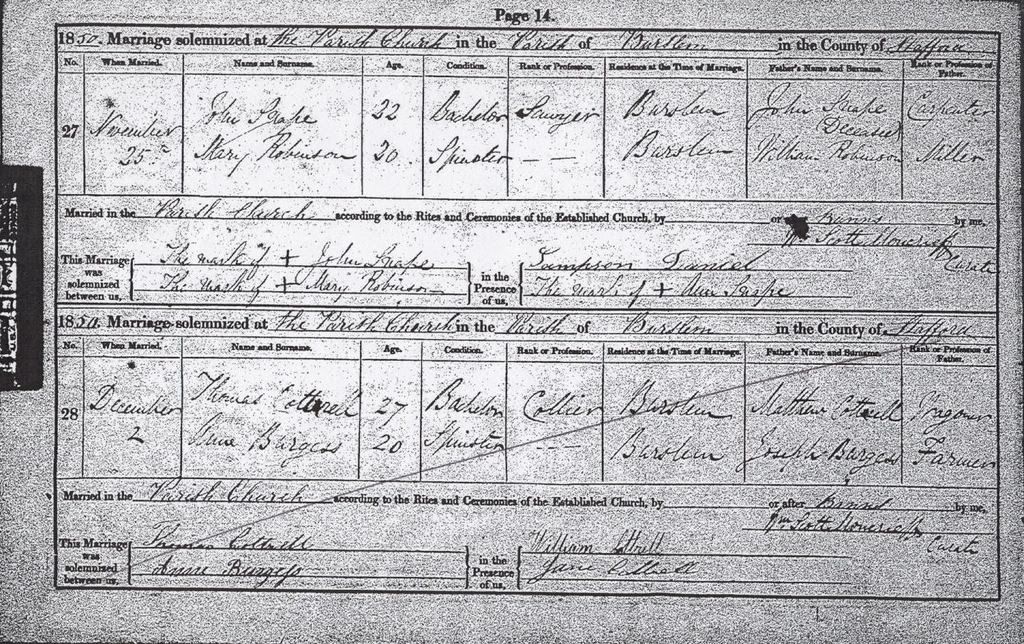 John Snape & Mary Robinson were married at St. John's Parish Church, Burslem on 25 Nov 1850.

Transcript:
Marriage certificate: Burslem St. John's, entry 27, 25 Nov 1850.
John Snape, 22, Sawyer, Burslem, father John Snape, deceased, carpenter.
Mary Robinson, 20, spinster, no occupation, Burslem, father William Robinson, miller.
Both made their marks (could not write).
Witnesses: Sampson Daniel, Ann Snape