As described previously, my aunt Liz and uncle Mark, who live in England visited Kent, and the Coffin House my Banfield ancestors lived in at West Peckham (posted previously). She also visited the local parish church, St Dunstan's of West Peckham, and found the headstone for our ancestors Thomas (1829-1891) and Mary Ann BANFIELD nee COOMBER (1841-1910).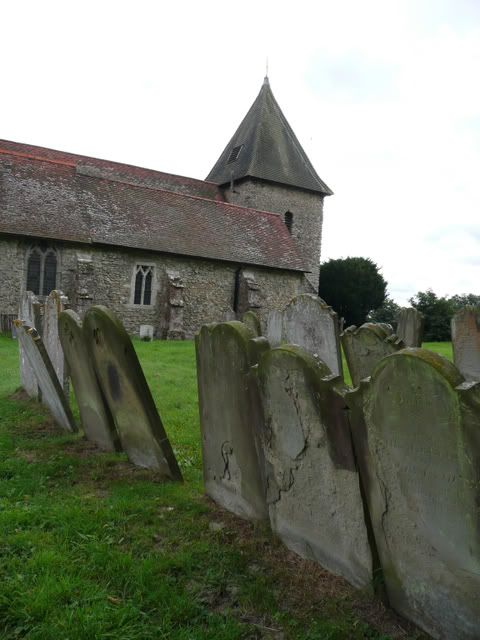 A lovely photo of St Dunstan's and an array headstones with a range of attitudes from the perpendicular. The children of Thomas and Mary Ann were baptised in this church from 1865-1880. The church was dedicated around the turn of the 11
th
century, and is mentioned in the Domesday survey. The church was extended during the Norman period, and the font is of Norman origin. and there are a number of interesting brasses and carved figures and a small amount of mediaeval stained glass in place. The parish registers date from 1561.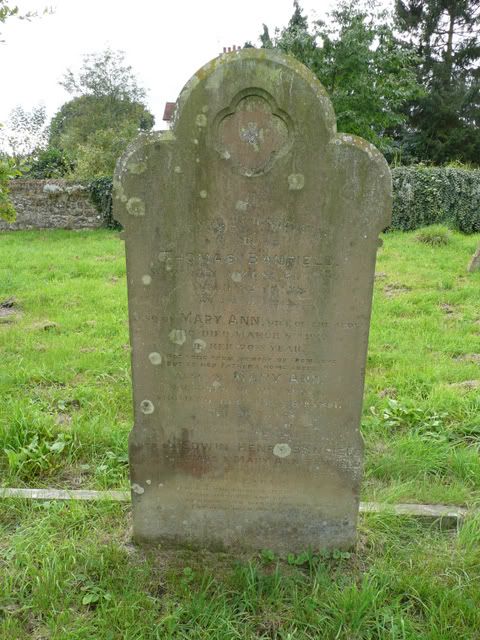 The headstone of Thomas and Mary Ann BANFIELD, and their children Mary Ann and Edwin Henry. The headstone is over 5 feet high.
Transcript:
'In loving remembrance of
Thomas Banfield
who died August 20th 1891
Aged 62 years
His end has peace
Also of Mary Ann, wife of the above
who died March 8th 1910
in her 70th year
Not gone from memory, or from love,
But to her father's home above
Also of Mary Ann, daughter of the above
who died December 8th 1891
aged 28 years
Nothing in my hand I bring
simply to thy cross I cling
Also of Edwin Henry Banfield
son of Thomas & Mary Ann Banfield
Who died October 31st 1927
Aged 62 years
I heard the voice of Jesus say
"Come unto me and rest
Lay down, thou weary one, lay down
Thy head upon my breast"
Zoom of the incription of Thomas and Mary Ann Banfied.