In the State Library of NSW is a glass photonegative uncovered as part of the Holtermann Collection (Call Number: Home and Away - 41778, Copy Print - PXA 4999). The photo was taken by the 'American & Australasian Photographic Company' between 1870-1875, and is one of 3,500 glass negatives (the Holtermann Collection) discovered in the mid-1900's

Bernard Otto Holtermann, a German immigrant who became wealthy in the gold rush (including being involved in the mine that discovered the world's larges specimen of reef gold. From the State Library: "He commissioned the American & Australasian Photographic Company (Beaufoy Merlin and Charles Bayliss) to document gold towns in New South Wales and Victoria from 1872 to 1875. The surviving 3500 wet-plate glass negatives are so detailed that it is possible to reconstruct some towns."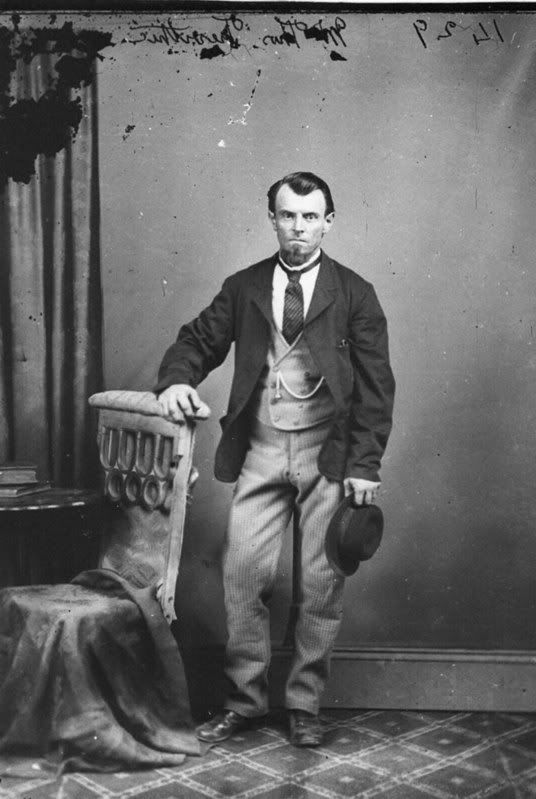 This photo of interest is titled 'Mr Thomas Trivithie [Trevithick ?]' (1872-1875) and gives no further clue to the date or location of the photo.

Reversing the photo reveals his name clearly as 'Mr Thomas Trevithic':




There is much to support that this is my ancestor, Thomas Trevithick, born 1835 in Cornwall, England. Thomas was living in Hill End, NSW at the time this photo was taken. As outlined in other posts, his wife Elzabeth Randal CANDY had in 1871 in Sydney, while he worked the Tambaroora and Hill End mines - one of the main districts where Merlin and Beaufoy took photos, supported by Holtermann (whose finds had been made in the same area). Thomas' birth dateo of 1835 means he was 35-40 years old when this photo was taken, and again this fits.

However, there were in fact two Trevithick families in Australia around this time, the other in Victoria where photos may have possibl been taken. In this family was a Thomas Henry TREVITHICK born in Cornwall, England in 1838, who arrived with his parents Henry TREVITHICK and Elizabeth nee PASCOE at Port Adelaide on the 'Aboukir' in 1847. This family stayed at Burra for a time and made their way to Victoria, settling in Avoca. This Thomas Henry TREVITHICK never married, and died in 1899 at Ballarat Hospital. I originally thought this was my line, and discovered my error ultimately by wasting (investing?) in Victorian birth certificates, and scratching my head over why his death certificate stated he neither married nor had children. (Anyone reading descending from this family that stayed in Victoria - feel free to e-mail me).

Given the existence of a second Thomas Trevithick in Australia at the same time, I believe further support is required before categorically stating that this is the Thomas Trevithick born in Kenwyn, Cornwall, England who married Elizabeth Randal Candy (and two times subsequently) anddied in Hill End NSW in 1913.

I believe this evidence lies in comparison with Thomas' children. Thanks to others, I have photos of two of Thomas' children, Thomas Trevithick (Jr.) and Harriet SNUSHALL, nee Trevithick, sourced at Trevor Brown's site (http://trevorbrown.100webcustomers.com). There is a strong resemblance between Harriet Trevithick and the Thomas Trevithick in the Holtermann collection photo, upholding the hypothesis that he is indeed Thomas Trevithick of Hill End.




In summary, the main supporting evidence is:
- The name etched at the top of the photograph
- The correct age of Thomas Trevithick
- That Thomas lived in the Hil End district of NSW where many of the photos were taken
- The likeness to his daughter Harriet SNUSHALL nee TREVITHICK
The collectively confirm that this photo is of Thomas Trevithick, blacksmith, miner and engineer, of Hill End NSW, died 1913.