I wrote a few entires below about the confusion over the birth of George Bliss, and whether his birthplace was Rochester or Otford in Kent. The middle name George 'Henry' Bliss came from the Rochester baptism in 1819.

I wrote to the church of St Bartholomew in Otford, Kent, and they sent copies of three Bliss children baptised at the church in the early 1800's:

John Bliss, baptised 20 Feb 1813
Eliza Bliss,
baptised 1 Dec 1816
George Bliss,
baptised 21 Feb 1819

All three children were born to Richard and Elizabeth BLISS, abode Otford. Richard's occupation was baker in 1813 but changed to labourer for 1816-19. This location fits with the area George committed his crimes.

IGI gives a marriage entry for Richard BLISS and Elizabeth HOLLOWAY at Seal, Kent - just 3 miles from Otford - on 2 Dec 1810.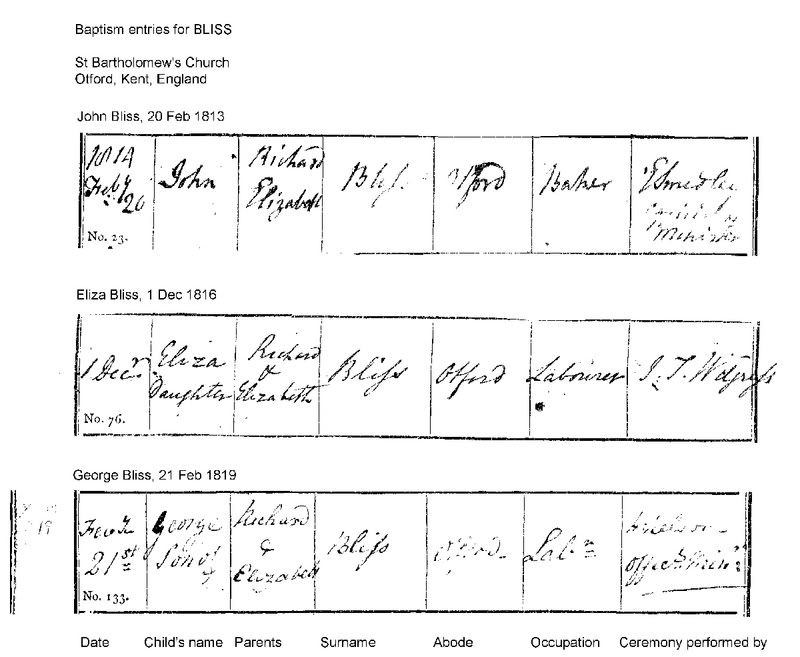 ---------
Notes on Otford from various web sources:
Otford is a Kent village on the river Darent two miles north of Sevenoaks and twenty-five miles south east of London. The Pilgrims Way passes through the village and its centre is the duck pond, which is unique in being designated a listed building. Passing through Otford is the Pilgrims' Way, the historic route supposed to have been taken by pilgrims from Winchester in Hampshire, England, to the shrine of Saint Thomas Becket at Canterbury Cathedral.
The village is located on the River Darent, flowing north down its valley from its source on the North Downs. The name is a contraction of Otterford, possibly derived from Offa, the King of Mercia who fought a battle at Otford against the Kentish Saxons in 776 at the Battle of Otford.
The parish church is dedicated to St Bartholomew. The village has always centred around the church, the first stone church being built between 1050 and 1080, and the Bishop's Palace. St. Bartholomew's Church much added to and altered down the years is steeped in history. Part of the original 11th century wall is still to be seen.