My great grandfather Norman Hall (b. 1896 Dubbo NSW, d. 1972 Melbourne Vic) wrote at least three letters on his family history, the last being in 1971, transcribed below. Appended to this letter were four hand-drawn 'trees' (he refers to them in inverted commas), the first of which is show below. As with the letter, annotations were added at a later date by his son Francis (Frank) Hall (b. 1923, d. 2005).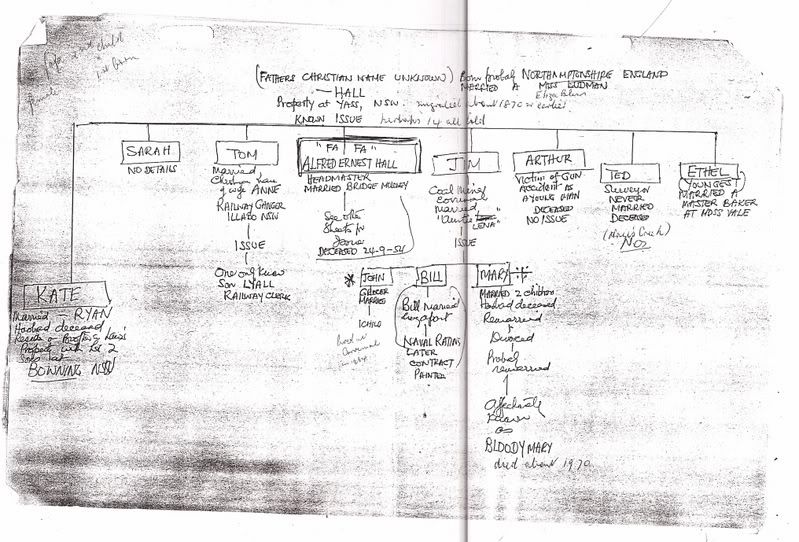 Norman's father Alfred Ernest Hall (b.1870 Yass NSW, d. 1954 Ashfield NSW) was born in Yass, but moved to Sydney to study at the University of Sydney. It was as a teacher in country NSW that he and his wife Bridget Ann MOLONEY (b. 1875 Redfern NSW, d. 1942 Ashfield NSW) had their children including Norman, in Dubbo NSW. It appears Alfred had little contact with his father and fourteen siblings (all of whom were still alive when Norman was born); not only does Norman not know his grandfather's name (though he correctly recalls that it may be William Hall in his letter), but his grandmother's name is incorrect (the Ludman name appears to come from a family story about family friends in Cambridge where the Hall family originally came from), and his father's name is unknown on Alfred's death certificiate - Alfred outlived nearly all his siblings despite being the 2nd of 15 children.
Alfred had some contact with his family though; Norman mentions that Alfred's first met his youngest sister Ethel when she visited them at Junee when she was 16 (she was born after he left Yass), and Norman was the same age as his aunt. But the family contact was clearly not extensive - Norman is aware of 7 of the 14 siblings of his father, and only three of his cousins (including the excitingly dubbed 'Bloody Mary') from Norman's uncle James (Jim), who lived closer to Sydney in Wollongong.