The second of four trees that Norman drew up covers Norman's parents and siblings, and as such it is reliable and correct.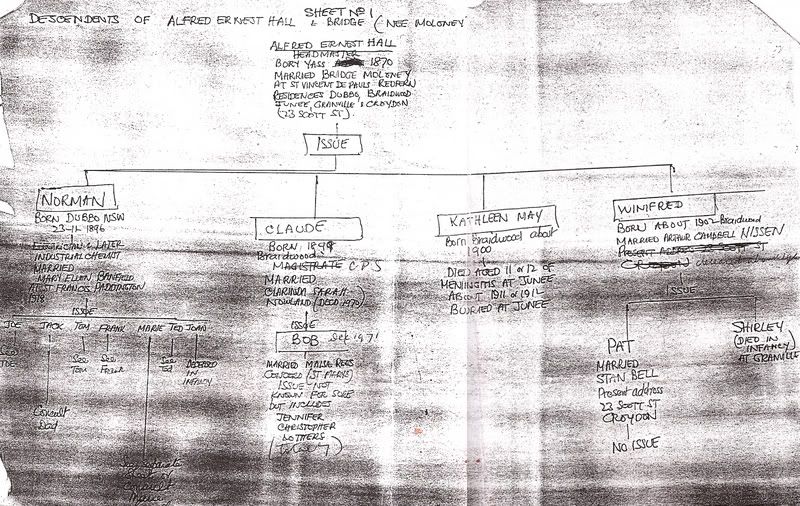 Frank Hall's family history notes outline each person - Alfred Ernest Hall and his wife Bridget Ann Moloney, and his four chilren. The notes are slightly corrected, modified to remove references to 'my grandfather' &c. that can be confusing.
"Alfred Ernest Hall was born on the family property at Yass River on 16-5-1870, the second of fifteen children born to William Hall and Eliza Bliss. William emigrated from Cambridge UK with his parents in 1857 and Eliza was born at Yass River in 1852. William was educated, and why his family emigrated is not known. Eliza signed her marriage certificate to William with a cross so obviously she could not read or write in 1868. William and Eliza actually married on the family property on 26-5-1868, when he was 25 and she 16, according to the rites of the Church of England. The marriage is recorded at Yass, but not the birth of Eliza*. When about 15 Alfred came to Sydney to become a school teacher and read for a BA degree at Sydney University. As a result he had little contact with his family and first met his youngest sister Ethel when she was about 16 years old. The question of course is how well did he get along with his family for he apparently spoke little of them. Alfred majored in English and Latin at university and loved Dickens, Thackery, The Aeneid etc. He was a great help to his grandsons when they were at school. After teaching in such places as Grafton, Dubbo, Braidwood (1899-1910) and Junee he finally settled in Sydney first at Granville and then at 23 Scott St, Croydon.
Alfred married Bridget Ann Moloney at St Vincents Catholic Church Redfern (now closed) in 1895. This church at 117 Redfern St Redfern was close to the Moloney home at 110 Pitt St Redfern. Alfred became a convert to Catholicism. Alfred and Bridget had four children viz Norman, Claude, Kathleen and Winifred. Kathleen died in Junee of meningitis, when about 12 years. Bridget herself was a very talented painter and pianist but unfortunately was keen on a "drop". She was so Irish! She died on 27-8-1941 and is interred at Rookwood cemetery.
Norman Hall was born at Dubbo on 23-11-1896 and died in Melbourne on 11-10-1972. He lived his early life mainly in Braidwood and Junee although when about 12 he spent a year as a boarder at St Joseph's College Hunters Hill. Initially he was an electrician with the Railways but in the 1920's – after he married – he completed a Diploma in Chemistry at Sydney Technical College, and became a power station chemist at Ultimo and White Bay power stations Sydney. He also ran a small consultancy.
Norman married Mary Ellen Banfield at St Francis Catholic Church Paddington in January 1918. After her death of cancer on 17-9-1940 he moved to Wollongong with Coal Research Pty Ltd. He vacated 37 Stanley St Burwood for 32 Donald St Fairy Meadow and in the early 1950's became an alderman of Wollongong Council. "Hall Park" in Carters Rd Fairy Meadow is named after him. Then in 1955 he moved to Melbourne and on 14-5-1955 he married again – this time to a widow named Averil Saxon-Jones (nee Sayer). The marriage took place at St Aloysius Catholic Church Caulfield Melbourne, and produced a daughter Yvonne Fabian. Thus Norman had seven children to Mary Ellen and one to Averil. In Melbourne Norman worked as a foam chemist with Pyrene Co. and lived at 58 Sutherland St Chadstone. He died, I believe, of a cerebral haemorage and is buried in an unmarked grave at the new Cheltenham cemetery in S.E. Melbourne. In addition to being a very competent chemist Norman was a good instrument maker and keen photographer. He did nothing by halves, but at sport he was very poor indeed.
Mary Ellen Banfield was the first but only living child of Thomas Uriah Banfield and Ellen Harrington. The second born – a son – died in infancy and is buried in the catholic section of Hay cemetery alongside his mother. Mary Ellen was born in Hay on 29/2/1889, lived her early life at Newmarket between Hay and Maude, and died in Lewisham Hospital Sydney of stomach cancer on 17-9-1940 aged 50 years. Initially she was a school teacher and met Norman when boarding together in Waverley. After marrying in January 1918 at St Francis Paddington they lived at Bondi and Sutherland before settling at 37 Stanley St Burwood in 1922. They had seven children, Joseph Gerard, John, Thomas Alfred, Frances Michael, Marie Brigid, Edward and Joan Ellen. Mary Ellen is buried in grave 192 section 12 of Rookwood Catholic Cemetery along with daughter Joan Ellen who died of pneumonia in 1933 aged 1 year.
Claude Hall, the second child of Alfred and Bridget was born at Dubbo on 7-1-1899 and married Clarinda Sarah Nowland at Tenterfield NSW on 26-6-1920. Her family came from nearby Emmaville. They had one child only, Robert John, born about 1922. Clarinda was a refined woman who died in Wollongong of lung cancer in 1970. Robert married Maisie Rees of Concord and had seven children before the marriage failed. Robert died of a heart attack and road accident near Wollongong on Christmas eve 1971, and Maisie died about 1983 at Concord. They lived mainly in Lithgow. Robert was talented but lazy and badly spoiled by his mother. Claude remarried on 25-11-1972 at St Francis Xavier Wollongong to a widow, Eve Challenger and lived at 18 Exeter Ave North Wollongong until he died of leukemia on 2-12-1984. I think Claude, Clarinda and Robert were all cremated in Wollongong. Claude commenced work in the Lands Dept at Wagga in 1916, studied law and worked and lived in such places as Dubbo, Braidwood, Junee, Hay, Tenterfield, Parramatta, Moss Vale, Glen Innes, Lithgow, Sydney and Wollongong. He served most of his time in court houses as clerk of petty sessions, chamber magistrate, coroner etc. Not a real sportsman – like Norman – he was a very likeable active person with a happy disposition.
Kathleen Hall born in 1901, died on meningitis in 1912 in Junee. She was born in Braidwood.
Winifred Hall, the fourth child to Alfred and Bridget married Arthur Campbell Nissen at Granville in 1925. She was born at Braidwood in 1902. They had three children but only one survived infancy, Patricia, born in 1923. Winifred's marriage failed, partly due to alcohol, but she later reformed and died on 14-7-1965 at Croydon. Short and stocky Win loved cats and had a very quick wit and sharp mind. She lived for many years with her parents at 23 Scott St Croydon, the house that was subsequently occupied by her daughter Patricia and her husband Stan Bell. Patricia had no children but was, musically, very talented.
*Frank visited the NSW Birth, Death, Marriage registers to peruse registers (including far flung places such as Yass and Hay) - he did not have the advantage of on-line searches. A contemporary search reveals that the birth register for Eliza Ann Bliss (V18522032 38A/1852) does not list the district the birth was recorded in.
-------
Addendum:
The University of Sydney archives and calendar records Alfred's academic career at the University of Sydney, which I've managed to track down through their archivist.
The Undergraduate register lists Albert as matriculating on April 11 1890 (aged about 20).
The following is from the University calendars:
He gained Class II honours in mathematics in the 1890 matriculation exam.
First year exams December 1890 he passed Latin, French, Maths and English.
Second year exams December 1891 he was at University as an evening student and again passed Latin, French, Maths and English.
Third year exams December 1892, again as an evening student he passed Latin and French.
Alfred graduated BA on the 8 April 1893 – the exact date is listed in the Faculty of Arts graduate register.
There is no information on Albert undertaking an MA.
Burial:
Alfred is buried at Rookwood cemetery, in the Catholic Section. He was interred on 27th September 1954, Mortuary 2, Area 15, grave 2656.