Mary Ann Gutridge is still a bit of a mystery to me. She married William HODGE, a member of the 11th Regiment of Foot (North Devonshire) in 1832, and they had eight children in various countries as she accompanied the regiment (a right not all wives were granted).
The only information we have on Mary Anne GUTRIDGE's (or GUTTERIDGE - both names exist in the records) birth is that she was born in Gibraltar according to her death certificate. When she was born is still being determined, but fellow descendent Steve Hodge (NZ) has listed the various sources as follows, with year of birth calculated from age on each of the following sources:
1818-1824 - England census 1841
1823 - Death certificate, based on age at death
1816 - Death certificate, based on age at first marriage
Before Dec 1820 - based on the last date that the 11th Regiment left Gibraltar
So Mary Anne was born between 1816 and 1824. The search for Gibraltar records is ongoing. Along with a want to confirm the identity (and regiment) of her parents, there is another reason for the interest: Mary Anne GUTRIDGE married William HODGE at Santa Maura, Ionian Islands on 15 Apr 1832, making her as young as 11 or 12 at the time depending on the accuracy of other sources.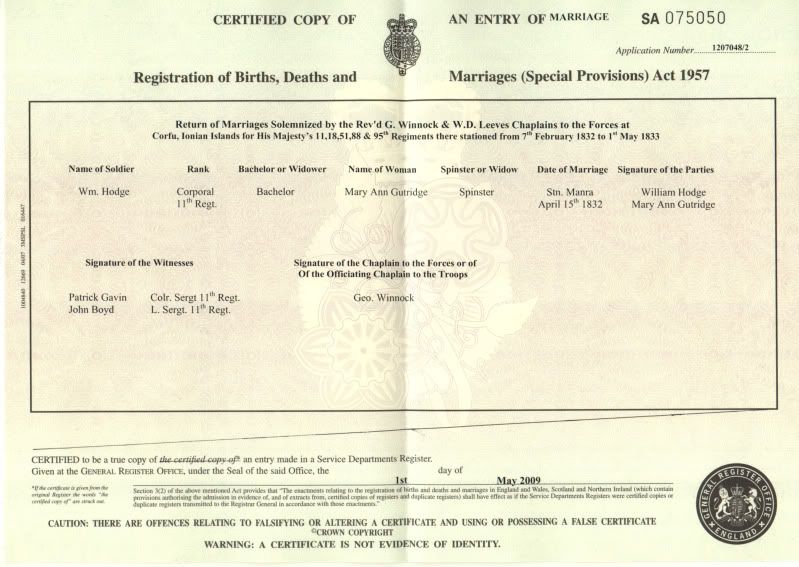 Transcript (thanks to Steve Hodge):
Certified Copy of an Entry of Marriage
Registration of Births, Deaths and Marriages
Return of Marriages Solemnized by the Rev'd G. Winnock & W.D. Leeves Chaplains to the Forces at Corfu, Ionian Islands for His Majesty's 11, 18, 51, 88 & 95th Regiments there stations from 7th February 1832 to 1st May 1833
Name of Soldier: Wm. Hodge
Rank: Corporal 11th Regt.
Bachelor or Widower: Bachelor
Name of Woman: Mary Ann Gutridge
Spinster or Widow: Spinster
Date of Marriage: Stn. Manra, April 15th 1832
Signature of the Parties:
Wiliam Hodge
Mary Ann Gutridge
Signature of the Witnesses:
Patrick Gavin, Colr. Sergt 11th Regt
John Boyd, L. Sergt. 11th Regt
Signature of the Chaplain to the Forces or of the Officiating Chaplain to the Troops: Geo. Winnock
Santa Maura is one of the Ionian Islands (now part of Greece). At the time of their marriage, the British held the Ionian Islands and garrisoned regiments there to protect the islands. The 11th Regiment, of which William HODGE was a member (and probably Mary Anne's father also - her death certificate indicates that her father was a soldier) arrived at Corfu in 1828, and landed on the island of Santa Maura in January 1831. Here the regiment stayed till the 3rd of May 1832 (two weeks after William and Mary Anne married there) when the regiment transferred to the nearby island of Zante.
The reason for this marriage may have been the birth of Sebastian. While his baptism record has not been found, Sebastian death certificate indicates a birth in 1832-33, and his place of birth as 'off Isle of Zant, Mediterranean Sea'. Unfortunately an official record for Sebastian's baptism has not yet been identified.
Regimental musters and other records will ultimately help us to trace the movements of William and Mary Ann with their children, however their general movements are summarized in 'Historical Record of the Eleventh, or, the North Devonshire Regiment of Foot, containing an account of the formation of the regiment in 1685 and of its subsequent service to 1845', London, Harrison & Co. printers, 1845 (available electronically through Google books).
June 1835, the regiment was removed to Corfu. While in Corfu, Mary Ann gave birth to a daughter on 8 Oct 1837, baptized Emily.
Transcript (thanks to Steve Hodge):
Certified Copy of an Entry of Marriage
Registration of Births, Deaths and Marriages
Return of Baptisms administered by the Charles F.A. Kuper in the Regiment and Detachment of Regiments Stationed at Corfu
Date of Birth: Corfu 11th Sept 1837
Date of Baptism: Corfu 8th Octr 1837
Christian Name: Emily
Name of Parents
Christian: William & Mary-Ann
Surname: Hodge
Rank of the father: Lance Serjeant 11th Regiment
Signature or Name of the Chaplain to the Forces, or of the Officiating Clergyman: Charles F.A. Kuper
The indexes for the 'Ionian Islands, Chaplains Returns baptisms' indicates that while in the region, Mary Anne and William had another child, Elizabeth: "Elizabeth Hodge, Cephalonia, 11/30". Though this certificate/transcript has not yet been obtained, the child must have been born from 1833-1838.
Finaly, Steve has found in the Ionian Islands Military Registration of Births and Deaths index a record for the death of "Nicholas Hodge - Cephalonia - vol 7, pg 11". This is probably the deceased son mentioned in William's 1863 death certificate.
20 Jan 1838 the regiment embarked on board the 'Russel' for Gibraltar, arriving on 6th Feb 1938. From Gibraltar the regiment was ordered to North America in response to disturbances, which it did so via Bermuda. They reached Halifax on the 22nd April and St John's, New Brunswick on the 7th June. In Canada, the regiment was sent to several locations, and whether the families accompanied the men is not yet known (if they did they probably stayed in Quebec), however the regiment spent 1838-1839 traversing ice-packed rivers on dog sleds moving north to Quebec then onwards in Carioles to Sorel. Movements through the region were made in 1839 in response to the Maine Militia who were contesting the region, including a six month stay in a log fort constructed by the militia on a frozen lake!
26 May 1840 the regiment proceeded to return to England on the 'Apollo'. 15 Jun 1840 the regiment arrived in Plymouth after thirteen years and five months continuous journeying overseas. This is probably the first time Mary Anne and William's children visited England.
The family next appear in the 1841 census (collected on 6 Jun 1841), staying at an Inn on Boutport St, Barnstaple, Devon, which is William's home town. Present are:
William Hodge, 30, Serjt 11th Regt Foot, born in Devon
Mary Hodge, 20, not born in Devon
Sebastian Hodge, 8, not born in Devon
Emily Hodge, 4, not born in Devon
Sarah Hodge, 1, not born in Devon
It appears that their daughter Elizabeth had died (no record yet found). It also seems a new daughter Sarah was born in 1840, but a parish record for her baptism has not been uncovered yet, though there are two probable hits in the UK BDM indexes:
Sarah Hodge 1839 Apr-May-Jun Holsworthy Cornwall, Devon
Sarah Hodge 1839 Jul-Aug-Sep Totnes Devon
21 Aug 1841 – shortly after the 1841 census, the 11th were moved to Newport, Monmouthshire (Wales) due to 'disturbances' in South Wales.
14 Sep 1842 – the regiment was moved to Weedon in Northamptonshire (England).
At some point in 1842/1843 Mary Anne gave birth to a daughter named Mary Ann. While we don't know where she was born/baptized, her date of birth is approximated from the list of children in her father William's death certificate.
Steve has also found in the BMD records a death registered for a 'Sarah Hodge Q2 1843, registered Barnestaple, Devon'. The place of registration and time-frame fits, as the family may have stayed in Barnstape while William travelled in England with the regiment.
May 1843 – the regiment proceeded to Liverpool, where it sailed for Dublin (Ireland). From there the regiment spent time in Kilkenny and Anthlone.
Aug 1844 – the regiment departed Ireland for Chatham, Kent (England) to prepare them for their journey to the colony of New South Wales. While there, lodged at the Brompton Barracks, Mary Anne gave birth to a daughter, baptized Caroline.
Baptisms solemnized in the Parish of Gillingham in the county of Kent in the year 1845.
When baptised: May 27th 1845
Child's Christian name: Caroline
Parents Names: William and Mary Ann
Surname: Hodge
Abode: Brompton
Quality, Trade or Profession: Sergeant, 11th Regt
By whom the ceremony was performed: J Page, Vicar
The 11th sailed for Australia on two ships in July and August 1845. In Australia, the 11th Regiment (including William) were stationed at the Victoria Barracks (now on Oxford St in Paddington, Sydney) though detachments were stationed in New South Wales and Van Dieman's Land (Tasmania) at various stages.
They had two children, William in 1848:
NSW Baptism registry
Number: 654 Vol:33A
CHILD
Christian name: William
When born: 27 August 1848
Date of ceremony: 24 September 1848
Where ceremony performed: Parish of St Andrew, in the County of Cumberland
Where registered: Not Stated
PARENTS
Father: William HODGE
Mother: Mary Ann HODGE
Abode: Victoria Barracks
Quality or profession: Sergeant H.M. 11th Regt.
Sponsors: Not Stated.
By whom the ceremony was performed: W.G. Sydney, Church of England.
And a daughter Tempest, reputed to have been born during a violent storm, and whose name was inspired by her namesake:
NSW Baptism Certificate
Number 573 Vol: 37A
CHILD
Christian name: Tempest
When born: 23 Mar 1851
Date of Ceremony: 4 May 1851
Where ceremony performed: Parish of St Andrew, Sydney, County of Cumberland, NSW
PARENTS
Father: William HODGE
Mother: Mary Ann HODGE
Abode: South Head Road
Quality or profession: Soldier
By whom ceremony was performed: G. King, Church of England
By the time of their second child born in New South Wales, the family are listed as living on South Head Road, though as Oxford Street was known as South Head Road at the time, it is possible they were still living at the barracks. It is slightly confusing that William is listed as a soldier in Tempest's baptism, as in December 1850 his forms for a pension and retiring from the 11th Regiment of Foot were signed.
In his Chelsea Pension documents, William indicates his intended place of residence as Sydney NSW.
When the HODGE family moved is not clear, however between May 1851 and 1861 the HODGE family had relocated to Gundagai in country NSW. The first indication is the marriage of their daughter Mary Ann to Peter REARDON in 1861.
Two years later, on 11 Apr 1863, William died aged 53 at the hospital in Gundagai. His wife Mary Anne was the informant, 'widow of the deceased' living in Gundagai, and probably aged about 43. Williams was buried in Gundagai cemetery and has no remaining headstone. Interestingly in the NSW death certificate under 'Name and religion of minister' it is stated that there is 'no minister'. Five children are listed as being alive at that stage: Sebastian 29, Mary Anne 20, Caroline 18, William 14, Tempest 12, along with one boy (Nicholas) and four girls deceased (though only three girls Elizabeth, Emily and Sarah have been identified).
A year following William's death, the widow Mary Ann re-married, to William Thomas WEST in Gundagai, with scant information recorded.
NSW Marriage Certificate 1864/002126
Date and place of marriage: 15 May 1864, Gundagai
Husband:
Name and surname of party: William Thomas West
Conjugal status: Widower
Usual occupation: Miner
Usual place of residence: Gundagai
Wife:
Name and surname of party: Mary Ann Hodge
Conjugal status: Widow
Usual occupation: Housekeeper
Usual place of residence: Gundagai
Father's name and mothers' name and maiden surname: -
Married in: St Patrick's Church, Gundagai
This marriage was solemnzied between us:
William Thomas West, X his mark
Mary Ann Hodge
In the presence of us:
Donald Adair
Tempest Hodge
William, a miner, had been previously married also. Mary Anne's occupation was recorded as 'housekeeper', though whether this meant servant in a house or hotel, or that she maintained her own home, is not clear. As they were married in St Patrick's Church, Gundagai, it is possible that Mary Anne was baptized into the Catholic faith prior to their wedding. All earlier HODGE family events were held in Church of England churches.
Mary Anne did not have any children with William WEST, and she presumably lived in Gundagai till her death on 16 May 1877.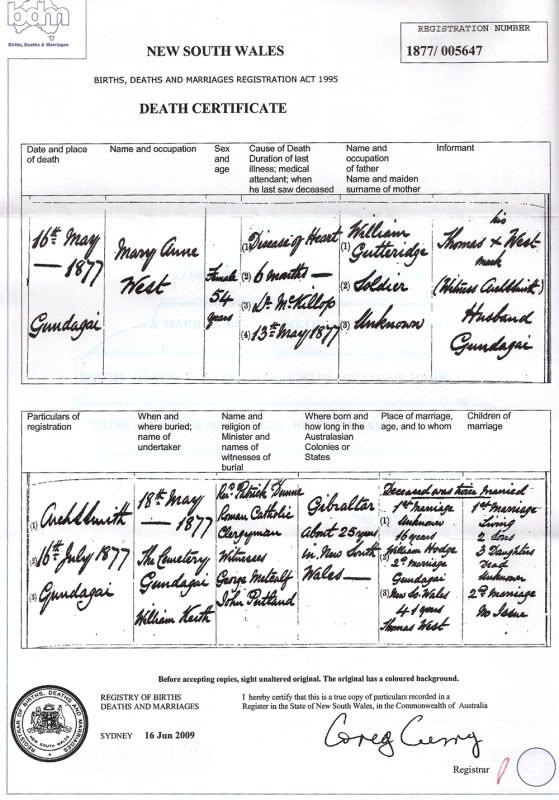 Transcript:
NSW Death Certificate
1877/005647
Date and place of death: 16th May 1877 Gundagai
Name and occupation: Mary Anne West
Sex and age: Female 54 years
Cause of death: Disease of heart
Duration of last medical illness: 6 months
Medical attendant: Dr McKillop
When he last saw deceased: 13th May 1877
Name and occupation of father: William Gutteridge, Soldier
Name and maiden surname of mother: Unknown
Informant: Thomas West x his mark (Witness ? Smith) Husband Gundagai
Particulars of registration: Arch S Smith, 16th July 1877, Gundagai
When and where buried: 18th May 1877, The Cemetery Gundagai
Name of undertaker: William Keith
Name and religion of minister: Rev Patrick Dunne, Roman Catholic Glergyman
Witnesses of burial: George Metcalfe, John Putland
Where born and how long in the Australasian Colonies or States: Gibraltar, about 25 years in New South Wales
Place of marriage, age and to whom:
Deceased was twice married
1st marriage: Unknown, 16 years, William Hodge
2nd marriage: New S. Wales, 41 years, Thomas West
Children of marriage:
1st marriage
Living
2 Sons
3 Daughters
Dead
Unknown
2nd marriage
No issue
There are a few points of interest in Mary Anne's death certificate - the age of 54 in 1877 it suggests she was born about 1822, and that she was 11/12 when she was marred and gave birth to her son Sebastian HODGE. It also means that William at 21 was considerably older at the time. Her place of birth is stated as Gibraltar - I'm hoping there are regimental birth records for Gibraltar. Given the definitive name William Gutteridge, Solider she should be easy to confirm if we find a Mary Ann(e) being baptized around this period. The baptism should also give information on her father's regiment and given the relatively modern time, her mother's name.
Most other details fit. She was buried Roman Catholic (as she was married) - there is probaby an adult baptism for her in the Gundagai parish records. Mary Anne was also obviously in reasonable touch with all five living children as they are recorded correctly by her widower William WEST. Sadly, Mary Anne also does not have a headstone in Gundagai cemetery.
There is much still to learn about this family.