Continuing from my previous post on Rowland Edwards, this entry is intended to summarise what I know of Rowland EDWARDS, Jane FLETCHER and their children from their marriage in 1804 till Rowland's death in 1814.
The NSW BDM indexes reveal three children baptised between 1804 and 1814:
1.
Ann EDWARDS (V18083400 1A/1808) parents Rowland and Jane
2.
Elizabeth EDWARDS (V18103402 1A/1810) parents Rowland and Jane
3.
John R (V18133398 1A/1813) parents Rowland and Jane
John Rowland (V1813187 156/1813) parents Rowland and Jane
As with many early indexed records, multiple entries appear for the young John Rowland. Prior to compulsory civil registation in NSW in 1855, indexes today are compiled from church records. If a child was not baptised (or did not survive long enough to be), they escape NSW BDM indexing.
Furthermore, the NSW Baptism Certificate for Elizabeth shows that despite being born in 1810, she was not baptised till after her father Rowland was murdered in June 1814: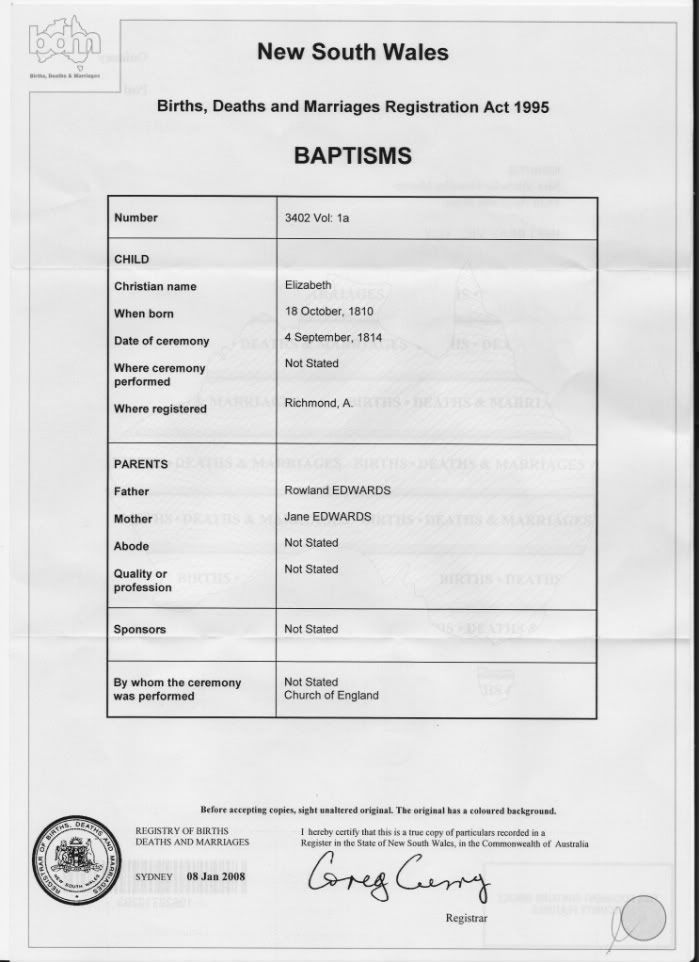 Transcript:
--------------------
NSW Baptisms
Number 3402 Vol: 1a
CHILD
Christian name: Elizabeth
When born: 18 October, 1810
Date of ceremony: 4 September, 1814
Where ceremony performed: not stated
Where registered: Richmond, A.
PARENTS
Father: Rowland EDWARDS
Mother: Jane EDWARDS
Abode: Not stated
Quality or profession: Not stated
Sponsors: Not stated
By whom the ceremony was performed: Not stated, Church of England
--------------------
Along with these three entries, the 1828 census also four Edwards children 'living with Jane Fletcher' at Richmond. Jane herself is entered under her maiden name rather than her married name(s), probably used to keep record of women transported to the colony.
In each case, the children are entered as born in the colony ('BC'), Protestant ('Pro'), and residing in Ricmond:
Mary, age 23 (so born abt 1805)
Elizabeth, age 19 (so born abt 1809)
John, age 16 (so born abt 1812)
Catherine, age 18 months (so born abt 1827)
Their sister Ann appears elsewhere in the 1828 census living at Parramatta, as she had married Edward EWER in 1825. While Elizabeth and John are found in the NSW BDM baptism entries (above), no entry for Mary appears, and the census is the main evidence we have for her birth (along with advertisements in the Sydney Gazette a few years prior to 1828).
Catherine, age 18 months who appears on the census above does not correspond with Jane, but is in fact the daughter of Elizabeth EDWARDS (and is therefore Jane's granddaughter). Her baptism appears in the NSW BDM indexes:
Catherine EDWARDS (V18279178 1C/1827) – mother Elizabeth, father not named
Catherine EDWARDS (V1827586 13/1827) – mother Elizabeth, father not named
So John EDWARDS and Jane FLETCHER had four known children following their marriage in 1804:
Mary, born abt 1805
Ann, born 1808
Elizabeth, born 1810
John Rowland, born 1813
It is possible other children were born and died in the period they were married (1804-1814), however given that their children were baptized after Rowland's death, any who were born and died prior to that period have not been captured in parish records. As early church burial records often don't record the names of parents it would be difficult to identify other probably children without going through parish books for the specific area.
Apart from parish records, other possible sources of information about the family from 1804-1814 include NSW State Archives records such as Colonial Secretary correspondence, and the newspaper of the time, the Sydney Gazette. Together these items help to piece together the lives of Rowland, Jane and their children.
1808. An advert in the Sydney Gazette for Sunday 24 July 1808 (page 2) states that "the following letters being committed to the charge of G. Howe, the persons to whom they are directed are requested to apply for the same". Rowland Edwards is listed there. G. Howe was the proprietor of the Sydney Gazette.
1809. The index of 'Land Grants, 1788-1809; A record of registered grants and leases in NSW; VDL and NI' book 4D lists all land Grants and Leases Oct-Dec. No. 1766 is for "Edwards, Rowland. Dec. 14 80 acres at Richmond Hill." It is not clear whether this is an extension of a land grant, or represents a new grant.
The Sydney Gazette for Sunday 3 September 1809 lists auctions 'BY VIRTUE of EXECUTION'.
"SAME DAY, On the Premises of ROWLAND EDWARDS, on the High Lands at Richmond Hill, at Three o'Clock in the afternoon, The PROVOST MARSHALL will proceed to SELL by PUBLIC AUCTION, one Horse, one Cart, and a number of Pigs, the Property of the said Rowland Edwards (unless the Execution thereupon be previously superseded)."
This auction is the result of an inability to settle debts (the first of two times this occurred to Rowland in this period). We learn from this that Rowland's farm was 'on the High Lands at Richmond Hill', and also that they owned (at least prior to the auction) a horse and cart. While the farm was a crop farm (wheat farming is referred to below), the pigs were probably kept for food. Richmond Hill is now known as Richmond.
There are a number of reasons why properties in the district could be suffering financially – one reason in the district was flooding. There was extensive flooding in 1806 and again in 1809, as this transcript from the Sydney Gazette on Sunday August 6, 1809 reported the massive flooding: 'It is considered that the perpendicular rise of the river could not be much less than 86 feet from ground level, and to have exceeded that of March, 1806, by 6 or 8 feet of perpendicular height; and unfortunately happens at a time of year which totally destroys the prospects of the settler, and the dependence of the Colony upon this Settlement for the next year, as the sown wheat will in all probability perish in the ground in most of the lower situations……. The accounts from Richmond Hill are of the same distressing tendency….'
In the face of such hardships and loss of crops it is easy to understand difficulty for a farmer in settling accounts.
1810.
The only item of potential interest in the Colonial Secretary's correspondence is an 1810 Memorial (or letter) (Fiche 3003; 4/1821 No.98), though I've not yet obtained a copy of this correspondence.
Also in 1810, the front page of the Sydney Gazette for 8th Dec contains an 'address from the settlers of Hawkesbury' to the newly arrived Governor, followed by a long list of signatories including Rowland Edwards. The address reads:
"The following address from the settlers of Hawkesbury was presented on the 1st instant to His Excellency the Governor at Windsor (formerly Green Hills) by Thomas Arndell, Esq.
"We the undersigned Settlers, Residents of the Hawkesbury and its vicinity, beg
leave respectfully to congratulate YOUR EXCELLENCY on your arrival at this
Settlement, and earnestly hope your Excellency will be pleased with the
Agricultural improvements and industry that pervade here; and trust that the
continuance of our exertions will ever merit your Excellency's approbation.
We also beg leave to return our unfeigned thanks for Your Excellency's recent
Appointment of William Cox Esq. as a Magistrate at this place; - a Gentleman who
for many years has resided amongst us, possessing our esteem and confidence,
who, from his local knowledge of the Settlement, combined with his many other
good qualities, will, we are convinced, promote your Excellency's benign
intention of distributing Justice and Happiness to ALL."
Among the list of signatories is Rowland Edwards, as well as Henry Baldwin who witnessed his marriage. This memorandum was probably related to the Governor's tour of the district which resulted in the establishment of five towns in the Hawkesbury District; Windsor, Richmond, Castlereagh, Wilberforce and Pitt Town. Macquarie located the town of Richmond Hill (now called Richmond) on a ridge to ensure it was relatively safe from flooding.
A list of Land Grants issued or renewed by Governor Macquarie in 1810 for Richmond Hill also lists Rowland: "Edwards, Rowland 80 acres".
1811.
Rowland received his Certificate of Emancipation (1/2/1811), again not yet sourced from NSW State Archives.
1812.
The Sydney Gazette for Sunday 28 November 1812 lists adverts for 'SALES BY AUCTION (By Virtue of Execution)'.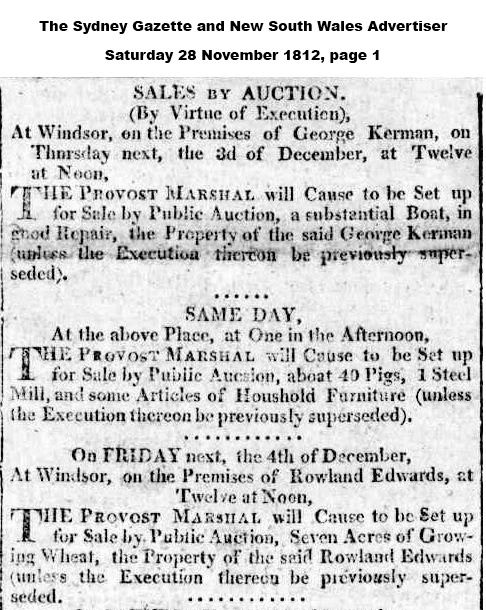 'On FRIDAY next, the 4th December, At Windsor, on the Premises of Rowland Edwards, at Twelve at Noon, THE PROVOST MARSHALL will Cause to be Set up for Sale by Public Auction, Seven Acres of Growing Wheat, the Property of the said Rowland Edwards (unless the Execution thereon be previously superseded.'
As with 1809, several properties are listed along with Rowland's suggesting that this was a difficult period for farming in the district, and as a result they suffered at the hands of debtors. That Rowland faced difficulties with debts twice in three years indicates how difficult their life was, yet Rowland was obviously a capable farmer, as the 'growing wheat'.
This modern map (cut from google maps) highlights the local area. It shows Richmond and Windsor, and surrounding areas. The exact location of Rowland's farm has not been determined, however in newspaper articles in 1814 (the next post) mentioned his farm as being at 'Cornwallis' which can be seen closer to the river.
These fragments from newspapers and records are all we have uncovered to help us understand the life of Rowland Edwards, his wife Jane nee Fletcher and their children, maintaining a farm 'on the high lands at Richmond Hill' from their marriage in 1804 till 1814, when their lives were interrupted by Rowland's murder.