Rowland EDWARDS (abt1763 - 1814) arrived on the 'Admiral Barrington' as part of the Third Fleet in 1791. Indents indicate he was sentenced in Salop (Shropshire) to 7 years transportation. I've not entered my data/certificates etc. on Rowland EDWARDS, and little on Jane FLETCHER his wife (1786-1832). I have previously posted on the legal error that led to Jane not being hung for murdering her 'bastard child', but transported to Australia instead: http://thehistoryofmatt.blogspot.com/2009/01/jane-fletcher-sentencing-in-1803.html
I'll now begin to post what I have (in chronological order).
Rowland EDWARDS.

While I do not have any copies of primary sources yet, a fellow Rowland Edwards descendent Ron Harper informed me that "Rowland Edwards, age 26, was charged at Shrewsbury, Salop County, UK on 8 August 1789, with feloniously stealing a black gelding, the property of Morris Evans of Berthyneus in the Parish of Carno in the county of Montgomery between the 25th and 27th of May 1789. Upon the oath of Richard Owen of Carno, Wales he was convicted and sentenced to seven years transportation beyond the seas. He was transported on the "Admiral Barrington" from Portsmouth, on 27 March 1791 as part of the Third Fleet to New Holland, arriving in Port Jackson on 16 October 1791. The "Admiral Barrington", under Captain Robert Abbon Marsh, with Peter Gossam as ship's surgeon, was a 1781 French-built ship of 527 tons. It carried 300 male prisoners, 36 of whom died during the voyage."

Another descendent Lynne Dickson has informed me of a newspaper article in the
Shrewsbury Chronic
le
dated Oct 6th 1789 listing
Prisoners in Goa
l, sentenced to be transported . Among them is
Rowland Edwards aged 26, to be transported
beyond the seas for 7 years.


These two sets of information would mean that Rowland was b

orn about 1763.
I know little else of Rowland EDWARDS prior to 1804, though he would have served his sentence out by 1897. The only reference I've found is in the NSW Colonial Secretary's Index which refers to a document dated 10 April 1802 listing Rowland Edwards, 'of the Hawkesbury District. Particulars of arms in possession of (Reel 6041; 4/1719 p.93)'. This indicates that Rowland had already settled in the Hawkesbury district to the north and north-west of Sydney.
In 1804, Jane Fletcher arrived in NSW as a convict (see a later post) and later that year she married Rowland Edwards at St John's, Parramatta on 3 August 1804.
Transcript:

NEW SOUTH WALES MARRIAGES
Number : 271 Vol: 147A
St John's, Church of England
Rowland Edwards of the Parish of St John

Jane Fletcher of the Parish of St John
were married in this Church by Banns
this third day of August, in this year one thousand eight hundred and four
by me Saml. Marsden

This marriage was solemnized between us:
Mr R. Edwards
Jane Fletcher X her mark

In the presence of:

Martha Pearl x her mark
Henry Baldwin

It is important to note that the celebrant, Samuel Marsden, was by Rowland Edward's side when he died 10 years later, after being fatally shot at the Parramatta Toll House. St John's church at Parramatta was the only church in the colony in 1804, and had only been completed the previous year (it was demolished in 1851 and replaced by the current St John's on the same site).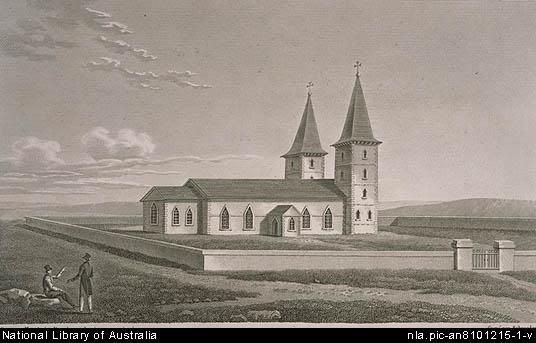 A sketch by Friedrich Schroeder (1768-1839) in the National Library of Australia 'Nouvelle-Hollande, Port Jackson, vue de l'eglise de Parramatta en 1819' - a view of the church at Parramatta in 1819.

Of the witnesses,

Martha PEARL

(also written as PURL) arrived with Jane FLETCHER on the Experiment in 1804. She also married a farmer from the Richmond district, Hugh DEVLIN (or DEVLYN), in 1805 at Parramatta (it would be interesting to know if Jane reciprocated as a witness). Hugh arrived on the Friendship in 1800. They appear not to have had children, and she received a Certificate of Pardon in 1808 and a Certificate of Emancipation in 1810. Numberous Sydney Gazette articles refer to their property at 'Richmond Hill'. The NSW Colonial Secretary Index shows that Martha was
convicted for clandestine distilling in 1812, and a fine levied on her paid into Police Fund. Six months later she appeared on
a list of prisoners sent to Newcastle suggesting she was punished for distilling or another crime - the indexes also show that her sentence was remitted in 1814. Martha and her husband do not appear to have had children. Sydney Gazette articles show they continued farming in the district, and in the 1828 census the couple appear (as DEBLIN) he 60, she 48, as farmers in Richmond. Martha died in 1859 aged 75, registered in Penrith (her husband Hugh died the same year aged 95).

The other witness,

Henry BALDWIN

, was also a convict, who arrived with Rowland Edwards on the 'Admiral Barrington" in 1791 and was also a farmer in the Richmond district. Lynne Dickson has provided me with some extra information on Henry Baldwin. Henry was born at Chipping Barnet, Hertfordshire in 1769. In Australia he married Elizabeth RAYNER though apparently no record remains of the marriage, and they had at least twelve children together in the Richmond/Wilberforce area. He died at Freeman's Reach NSW in 1849.

Shortly after Jane FLETCHER arrived in NSW on the 'Experiment' in June 1804, The Sydney Gazette for Sunday 1 July 1804 carried two articles on page 2 side-by-side. On the right, the Gazette reports '

of the female prisoners brought by the Experiment 21 convalescents were sent to the General Hospital, and the majority of the others went up to Parramatta. Nine settlers with their families came by the above ship; the wife and one child of ---- McGrath, and the wife of ---- Wilson died on the passage, as did also the child of another

'.

The adjacent article leads 'NATIVES' and contains a letter from a Richmond Hill farmer who had allowed a group of indigenous people to remain camping on his farm. However, news of violence nearby resulted in a party of the natives heading into the bush. The writer heard several shots the following day, and two well-known indigenous people were killed '

one of whom, better known by the name of Major White than any other, had ever been remarkable in fomenting mischiefs

'. The ever-present Samuel Marsden met with tribal leaders the next day and urged them to end the 'mischiefs' in the area, and remarkably in light of events the letter to the paper concludes '

...and I have no doubt that the mild and placid measures which have been pursued by Government on this, as on every other such irksome occasion, will have the desired effect of recalling these unfortunate creatures to a state of amity, and restor safety and tranquility to the remote settler

'.

This was the world of Richmond Hill in 1804 that Rowland lived and farmed in, and the one that Jane Fletcher was about to enter.