Jan Balfor visited the Kingswood State Records and obtained a copy of the 'Ticket of Leave' for George Bliss, number 47/9.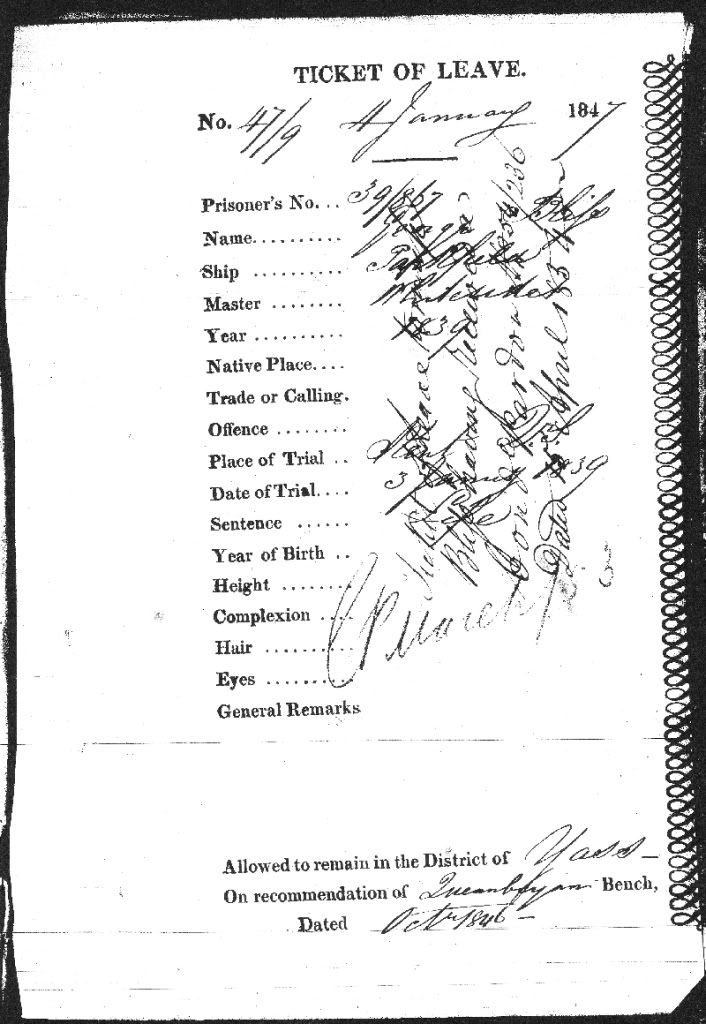 The entries can be difficuly to decipher, as it has been over-written.
Transcript:
TICKET OF LEAVE
No. 47/9 4 January 1847
Prisoner's No: 39/867
Name: George Bliss
Ship: Parkfield
Master: Whiteside
Year: 1839
Place of Trial: Kent QS
Date of Trial: 3 January 1839
Sentence: Life
Allowed to remain in the district of Yass on recommendation of the Queanbeyan Bench, Dated Oct 1846.
Overwritte with: Ticket of Leave torn up as Bliss having received a Conditional Pardon No 54/236 Dated 15 April 1854.
As Jan wrote: "the most interesting thing about it is that at the bottom of the document it records that in October 1846 the Queanbeyan Bench decided that George would be allowed to remain in the District of Yass on receiving the Ticket. So now we have documentary evidence that George was in the Yass area prior to 1846."