xFor the Canowindra (NSW) Pioneer's plaque to the Border family, we provided information on Samuel BORDER, his wife Amy nee CASTLE and his children. This has now been updated:



Samuel Litson BORDER

(21 Nov 1857, Mulyn, Cowra NSW - 27 Aug 1931, Cowra NSW) occupation Boundary Rider, Labourer. Married 1 Jan 1884 at Binni Creek, Cowra NSW to

Amy CASTLE

(also written CASSELL, 1 Jul 1864, Black Rock, Bathurst NSW - 11 Mar 1940 Sydney Hospital, NSW)



BORDER Children in order of birth


(Name DOB Place DOD Place Spouse: Name, Marr. Date & Place)


1.

Thomas James, 1885 Cowra - 1955 Hurstville, m. Louisa JENNER, 1908, Canowindra NSW


2.

Esther E, 1886 Cowra - 1903 Wallaroo, Cowra


3.

Ada, 1887 Cowra - ???


4.

Herbert Mason, 1889 Cowra - 1970 Penrith, m. Eliza LANG, 1912, Cowra NSW


5.

Albert, 1891 Canowindra, died 1893 Cowra NSW (registed as Arthur).


6.

Samuel Litson 1892 Bangaroo - 1963 Marrickville, m. Eileen Hodge, 1922 Darlinghurst NSW


7.

Minnie Abt 1893 ? 1899 Walleroo, Cowra -


8.

Martha Alice 1893 Canowindra - 1978 NSW, m. Edgar E LYONS, 1919 Sydney NSW.


9.

Elsie May 1896 Canowindra - 1969 Orange, m. Arthur L DAVIDSON, 1920, Burwood NSW.


10.

Amy 1898 Canowindra - 1955 Paddington NSW, m. Hilton R WHITEMAN, 1917, Canowindra NSW (divorced 1923), m. Thomas F HENNESSY, 1924 Paddington NSW.


11.

Henry Charles 1902 - Canowindra 1965 Sydney.


12.

Johnnie 1905 Canowindra - 1980 NSW, m. Marion May DWYER, 1929, Waverley, NSW.



Main changes/additions.


The main changes were prompted by Samuel Border's obituary (previously posted). His surviving children in 1931 were listed as three daughters: Mesdames Lyons (Lane Cove), Davidson (Millthorpe) and Hennessy (Paddington), and five sons: Thomas (Redfern), Mason (Hornsby), Sam (Bondi), Harry (Manly) and Jack (Canowindra).
There is a lot of variation between names of the children registered at birth and their names at marriage and death. This has made piecing the number of siblings together difficult and is reflected in the names stated in the obituary. Apart from the changes below, 'Mason' was born 'Herbert U' (M?) and died 'Herbert Mason'; 'Sam' was registered 'Samuel Litson' at birth and 'Samuel Arthur' at marriage and death; Harry was 'Henry Charles'.



Amy BORDER


No Border daughter had married a Hennesey despite a
Mesdames Hennessy
, however NSW BDM deaths indicated the death of Amy Hennessy, parents Samuel Litson and Amy in 1955. NSW State Records showed that Amy's first marriage to Hilton Whiteman in 1917 ended in divorce in 1923. Amy Whiteman then married Thomas F HENNESSY in 1924 at Paddington (Sydney) NSW. No indication of children yet.



Alice BORDER


A previous post of photos from
Lynette (Lyn) Cosgriff of the BORDER family in Watson's Bay from ~1920 to ~1960 included the following photo with caption: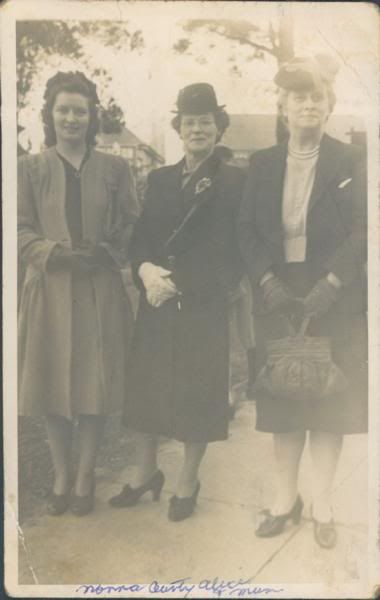 'Norma, Aunty Alice and Mum' – L to R: Norma BORDER, Aunty Alice and Eileen BORDER nee HODGE. The identity of Aunty Alice has not yet been determined – it's possible that she is not a direct aunt.

'Aunty Alice' had not been determined as no child of Samuel and Amy was registered as 'Alice' - of course the 'other side' of the family may have contained an Alice but this was known not to be the case. The obituary contained an Medames Lyons living at Lane Cove, and NSW BDM indicated that a Alice BORDER married Edgar E LYONS in 1919 in Sydney.

My mother noticed that Martha A (b. Canowindra 1894) may be Alice, and ordered her birth certificate which confirmed her suspicion - Martha Alice BORDER was born at Cowra to Samuel (aged 36, labourer) and Amy nee Castle.

So 'Aunty Alice' was registered Martha Alice Border - though she was obviously called Alice as she married as Alice E and her death was registered as Alice Eilieen. This is confirmed in the 1930 and 1936 NSW Electoral Rolls that show Edgar Ernest and Alice Eileen Lyons living at 4 St Lawrence St, Greenwich.

So the photo caption can now read:

'Norma, Aunty Alice and Mum' – L to R: Norma BORDER, Alice Eileen BORDER (registered Martha A, Canowindra NSW, married Edgar Lyons 1919 Sydney NSW, deceased 1978 NSW) and Eileen BORDER nee HODGE.

Alice's death is confirmed in the Ryerson obituary index. One child has been found, John Border LYONS, who enlisted for service with the AIF in World War 2 (Service No. 439478). He stated his next of kin as Edgar Lyons and his date of birth as 15 May 1925. He married Myra SULLIVAN in Sydney in 1952, and the Ryerson index indicates that John Border Lyons passed away in 1989.

Johnnie BORDER
I was puzzling over Johnnie Border as I could find no other records of a Johnnie, however we know he was alive in 1931, as Sam Border's obit states among his surviving children 'Jack' living at Canowindra.

A search of the NSW Electoral Rolls for John/Johnnie/Jack Border revealed:

1930, District: Wentworth, Subdistrict: Waverley
642, Border, Amy, 10 Ruthven St, Waverley, home duties, F
643, Border, John, 10 Ruthven St, Waverley, labourer, M
644, Border, Molly, 10 Ruthven St, Waverley, home duties, F

and

1936, District: Calare, Subdistrict: Cudal
154, Border, John, Moorbel, labourer, M
155, Border, Marion Mary, Belmore street, home duties, F

In 1930 John Border is registered at the same address as his mother in Waverley (Sydney) and Molly. Sam's obituary in 1931 states 'Jack' lives in Canowindra (where Sam Border his father was living) - and the 1936 electoral roll states John is register at Moorbel (where Sam Border lived), with Marion Mary at Belmore St. Presumably Molly was Marion's name.

John's mother Amy Border was buried in 1940 at Eastern Suburbs Memorial Park. Buried in the same plot is Maureen Border, buried 11 Aug 1944 aged 3. The NSW BDM index reveals that the death of Ena Maureen Border was registered in Annandale (Sydney) in 1944, with parents John and Marion.

Deaths of two other children were registered to these parents:
5498/1936 BORDER, RICHARD BRYAN, f: JOHN m: MARIAN MAY, TAMWORTH
23717/1946 BORDER, STILLBORN, f: JOHN, m: MARION MAY, PADDINGTON

Marriage indexes reveal the marriage of John Border to Marion M Dwyer:
8951/1929 BORDER JOHN DWYER MARION M WAVERLEY

Their deaths are both indexed in the Ryerson index, Marion May BORDER on 24 Jun 1979 (
late of The Entrance
) and John BORDER on 5 Feb 1980 (
late of The Entrance
).

The electoral roll information, and the fact that the child of John and Marion were buried with Amy, indicate that Johnnie/Jack/John Border, son of Sam and Amy, married Marion May Dwyer. No information on other children has been uncovered.



Albert BORDER


Finally, it was assumed that Albert, born 1891, married Florence Laura WILSON in 1911 as no death was registered for Albert. However Samuel's obituary lists only 5 male children, all of whom were accounted for. Which suggests another Albert Border, and Albert Charles Border was registered as deceased in 1956 with different parents.

Monumental Inscriptions for Cowra (Border no 1482) states that 'Arthur age 2 yrs' died - registered in 1893. It was assumed this was a separate child, however given that Albert was registered in 1891, and the variance in the names of children, Albert died in 1893 and was registered as Arthur.

As such, Arthur was removed from the list of siblings. The Albert Border who married Florence Laura WILSON was removed as a child of Samuel and Amy BORDER.