Harriet SMITH married Sebastian HODGE - the earliest record I've found of her. She was a spinster, and they married on 16 Mar 1855 at Scots Church, Pitt St in Sydney, a presbyterian church. Both lived in Sydney, and the witnesses were J. Lawler and William Smith (probably her father see below).
Their first child William Hodge was baptised in the same year in NSW, so it's possible pregnancy was the ultimate driver for their union. While their marriage certificate does not reveal a great deal of detail, they do appear in the 1861 census for England, in barracks in Portsmouth, Hampshire with the 11th Regiment. Sebastian's father William Hodge was a member of the 11th Regiment of Foot (North Devonshire) - this is how they came to be in NSW when Sebastian married - and the 1861 census shows that Sebastian joined his fathers regiment. The 11th Regiment was in NSW from 1845-1857, so Sebastian, Harriet and William returned to England with the regiment.
The census demonstrates what an international family they were!
- Sebastian's, 'soldier', his father William was born in the Hodge family home town of Barnstaple, but Sebastian was born abt 1839 on the 'Isle of Zante, Mediterranean' where the unit were registered.
- Harriet, his wife, was born in Ireland.
They had two children at this stage;
- William, already mentioned, born in NSW and
- Mary, born abt 1858 in Kent, Dover - her baptism is recorded on 28 Mar 1858 at Hougham, Kent, England (IGI indexes).
When Sebastian and Harriet returned to Australia has not been established, however a son Sebastian was born in Ireland abt 1861 (his death certificate in 1866 reports this) and they had a son Philip E baptised in Sydney in 1863. In fact the Sands Directory for Sydney in 1861 lists Sebastian Hodge living at Stanley St in Sydney. Whether Sebastian resigned from the regiment prior to returning to Australia is also unknown. Sebastian was the first School Sergeant at the Grammar School Sydney from 1862-75, then ran hotels including the Commerical Hotel on the corner of King and Castlereagh streets, where Harriet died two days before the centenary of white settlement in 1888.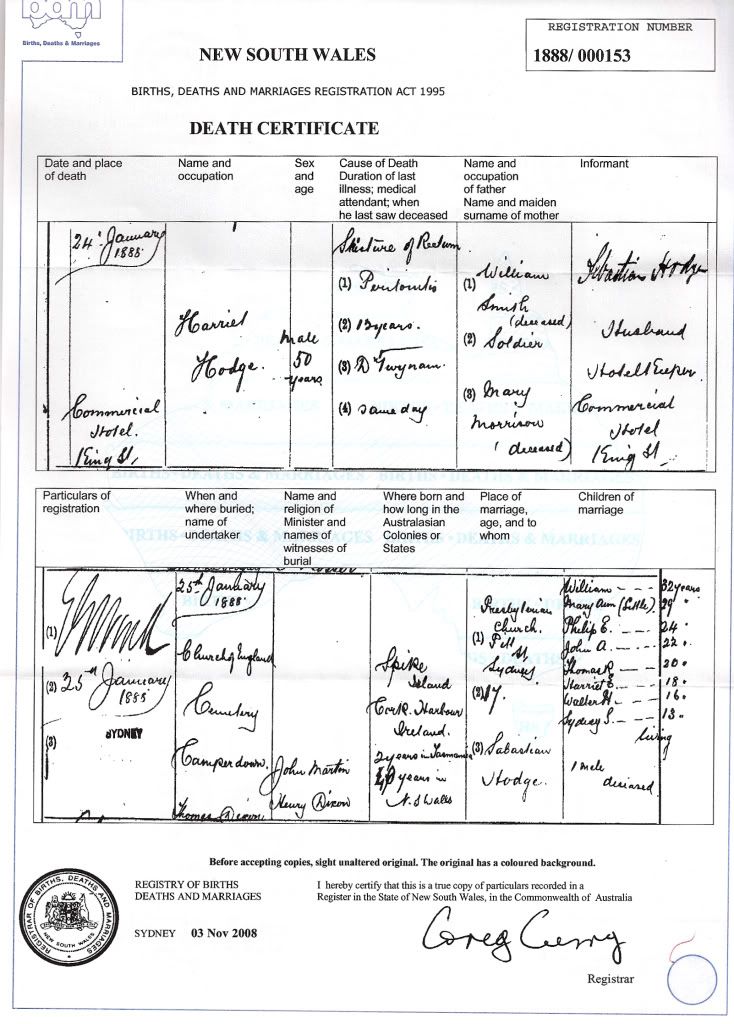 Harriet's death certificate informant was her husband. He stated her age as being 50 (meaning she was born abt 1838), born on Spike Island in Cork Harbour, Ireland - Spike Island is an island 1 mile around with a garrison that William was probably stationed there with the 11th. This makes sense when we learn that her father William Smith was a soldier - Harriet's father was in the 11th as was Sebastian's. Her mother was Mary Morrison - both parents deceased. Sebastian also listed their marrige (above) and children; living William 32 years, Mary Ann (Little) 29 years, Philip E 24 years, John A 22 years, Thomas R 20 years, Harriet E 18 years, Walter H 16 years, Sydney S 13 years and 1 male deceased. Harriet was buried in the Church of England Cemetery, Camperdown (now the church-yard cemetery of St Stephen's Church, Newtown).
I find it curious that both Harriet and Sebastian were born on islands. Searching on-line, I found a site describing William Smith of the 11th Regiment (http://freepages.history.rootsweb.ancestry.com/~garter1/smithwill.htm) which has a great deal of information for me to follow up on.
Yet to be confirmed, but this is the information on William SMITH and Mary nee MORRISON from that site:
Born : c September.1811,
Where Born : Belfast, County Antrim, Ireland
Occupation : Soldier / Master Tailor
Date Arrived : July 1845,
Ship Arrived on :" Castle Eden "
Port Arrived : Hobart
Rank on Discharge : :Sergeant
Date of Army Enlistment : Attested 27 Sep 1832,
Where Enlisted Army : Belfast
Regimental # : . 900
Date Discharged Army : 31 March 1856
Comments Regarding Army Discharge : Ill Health
Where Discharged : Sydney
Died : 7 Novovember .1877
Where Died / Buried : , 17 Chapman St, off Liverpool St, Sydney / Rookwood Church of England Cemetery
Parents Names :
Spouse's Name : Mary Elizabeth MORRISON
Date Married :3 March 1834
Where Married : Chapel of St Mary's, Brecon, Wales.
Spouse's Parents :Sergent Robert MORRISON
Born : 1811/12
Where Born : County Cork, Ireland.
Occupation :
Date Arrived :
Ship Arrived on :
Died : 28 May 1865
Where Died / Buried

Glebe, Sydney