Norman Hall's tree 2 (of 4) shown down this page reveals that he was unsure of his grandfather's name, and unaware of his grandmother's name - they were William HALL and Elizsa Jane BLISS, married at St Clements C of E in Yass in 1868. While Norman knew little of his paternal heritage, his newphew Frank Hall determined a great deal about the BLISS and HALL family connections.
I was contacted by a member of the BLISS family this week and wrote an e-mail to them that I've used as the basis of this entry.
My ancestor William HALL (b. Chesterton Cambridge 1843, arrived Australia 1857 on the Boanerges with his parents and two borthers, died 1912 Koorawatha NSW) married Eliza Jane BLISS. I believe Eliza Jane BLISS is the eldest daughter of George Henry BLISS and Sarah Ann FURRILL. My info indicates that Eliza Jane BLISS was born in 1852. I've not got the birth certificate yet, though it's not registered at Yass as most are - though at their marriage George Bliss states he is of the Parish of Mullion Forest, so it's possible they lived closer to another place of registration. Eliza BLISS died in Young, NSW in 1925, after she and William HALL had 15 children, all of whom seem to have survived adolescence! My great grandfather Alfred Ernest HALL was among them.
The HALL family settled in Yass after they arrived in Australia in 1857, and their farming property(ies) abutted those of the BLISS family properties. I have a copy of an old property map (shown below) that Frank Hall turned up 20 years ago showing the BLISS and HALL properties on the Yass River.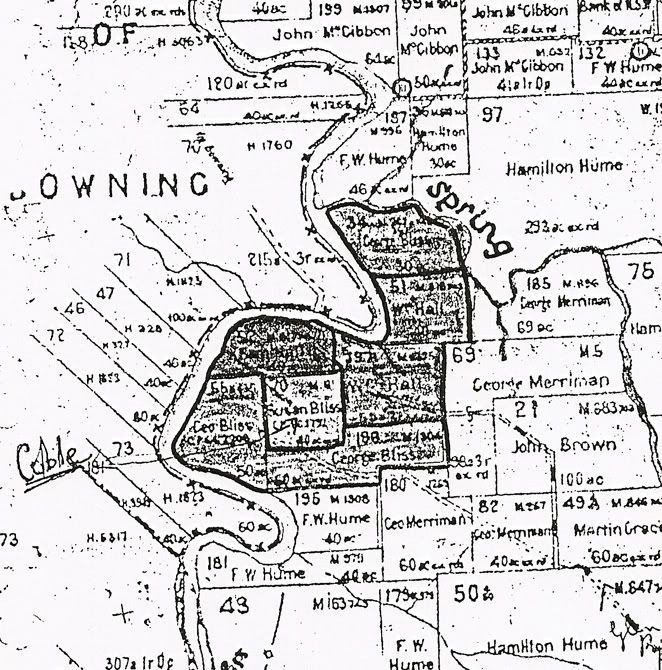 Original caption by Frank Hall: 'Location of properties. Take Good Hope Rd out of Yass (not Wee Jasper Rd) some 10 km turn right into Glenroy Rd and follow track keeping left at Glenroy. The Good Hope Rd is between ? down to a holiday camping ground. Euralie also is off the Good Hope Rd.'
While unfortunately the combination of pen marks and photocopying obscures the property names, the three lower highlighted properties are marked 'George Bliss' (2) and 'Susan Bliss' (1), along with the topmost property owned by George Bliss. The three properties in the centre that hug the bend in the river are owned by 'William Hall'. This proximity explains (to some degree) the multiple Hall-Bliss pairings. The area was known as Devil's Pass.
Note the Hume properties nearby (related to Hamilton Hume who opened up the area - http://www.adb.online.anu.edu.au/biogs/A010527b.htm).
William COBLE and his wife Mary Ann nee DITTON were witnesses at the marriage of George BLISS and Sarah Ann FURRILL at St Clements Church, yass, in 1850. Mary Ann DITTON was born in 1825 at Woodchurch, Kent, England. She was the daughter of Robert DITTON and Drucilla FURRILL. Drucilla FURRILL was the sister of Sarah Ann's father William FURRILL, and Mary Ann DITTON travelled to Australia from Kent with the FURRILL family on the Westminster in 1838. So Mary Ann COBLE nee DITTON was the cousin of Sarah Ann BLISS nee FURRILL. Clearly properties were tied by more then geography.
To further reinforce these family connections, William HALL's brother Arthur Albert HALL (b. 1851 Barnwell, Cambridgeshire, England, d. 1921 Nerrandera NSW) came to Australia with the family in 1857 (he was 7 at the time). He married Eliza Jane Bliss' sister (9th of 13 I believe) Judith (or Julia Ann) BLISS, in 1885 at St Clements C of E, Yass, NSW (20 years after her older sister married at the same place)!
So two HALL brothers in Yass married two BLISS sisters from the adjoining property.
Frank Hall put together information on the BLISS family - if he made copies of transcripts when visiting town in the UK, we do not have them, however being a scientist he always sighted originals before believing anything. I also confirm everything prior to entering it into my GED or posting it here.
Frank's notes on the BLISS family in England are:
"John BLISS and his wife Mary lived in Rochester, Kent, UK and had 4 sons, including John Edward, George (1818-1915) and William Samuel. It is possible that he only, or both of them, emigrated to U.S.A. leaving son George in England almost as a young orphan. This could account for George having trouble with the law in England before arriving in Australia as a convict in 1839 and then settling down to become a worthy Australian.
George BLISS was born Rochester, Kent in 1819. He had several confrontations with the law in England before being deported to Australia as a convict. He was given a life sentence at Maidstone Kent on 3-1-1839 for stealing beef and sailed from Sheerness (Scotland) on 15-5-1839 on PARKFIELD arriving Sydney on 1-9-1839. He obviously behaved himself in Australia for he was granted a provisional pardon in 1854 by Governor Fitzroy. However, as was normal, the pardon did not apply to Great Britain meaning he could never return to his homeland even though he was a free man in Australia. George was 5' 3" tall with dark brown hair, sallow complexion and brown eyes. On 15-7-1850 George married Sarah Ann FURRILL at St Clements C of E Yass - actually on the Yass River property - with neighbours, the Coble family - as witnesses.
I assume Cobles & Bliss were neighbours at Spring Creek before the Hall's arrived in Australia (1857) for a property shown as Susan BLISS on the above map apparently belonged to the COBLE's because Susan married a COBLE. I guess George BLISS sold his holdings about the same time as the HALL family, and wheras the HALL family moved to Koorawatha, some of the BLISS family went to Narrandera. But George BLISS (died 1915, Yass, aged 96) and Sarah Ann FURRIL (died 1919, 'Euralie', Yass, aged 87) must have remained nearby their old property for both died at 'Euralie', a nearby property owned at the time by F.W. HUME, a brother of Hamilton HUME.
George died of senile decay, accelerated by a fall from a horse, no 3-11-1915, aged 96 years. Sarah died on senility on 14-7-1919 aged 87 years. Both are buried in the C of E cemetery, Yass. I assume both George and Sarah were God-fearing folk because all their children were baptized at St Clements C of E Yass (officially that is)."
-------
I'll look into property records I have access to on-line to determine the property ownership.