Taken from a summary of what I know about my ancestor William STANILAND, who came to Australia around 1882 and married Annie SNAPE of Burslem, Staffordshire in Sydney, NSW.
William Staniland
was born in England about 1860. In his marriage certificate (Pyrmont Sydney, with Annie SNAPE of Burslem, Staffordshire) in 1885 he states that:
"Father and mother: James Staniland and Frances Stone; Father's occupation: Farmer."
His NSW death certificate in 1917 states (he predeceased his wife, the informant is his son William James):
Name and occupation of father: James Staniland, Farmer
Name of mother: Frances Coates
Where born and how long in the Australiasian colonies: St Catherine's, Whaplode, England, 34 years in NSW.
This gives his arrival date in NSW as about 1882 (though I've not yet been able to find an arrival for any Staniland in NSW). It also connects me to the UK censuses. Sure enough, William appears in the
1861 census
for Fleet aged 11 months, living with his parents James (b. Abt 1825) and Frances, and siblings George, Henry and Mary. James is a farmer (40 acres), who was born in Stroxton:

In the
1871 census
, William is still living at home, in Fleet, with the aforementioned family members, and two new younger siblings John Thomas and Arthur Jas (James? Or Jason?):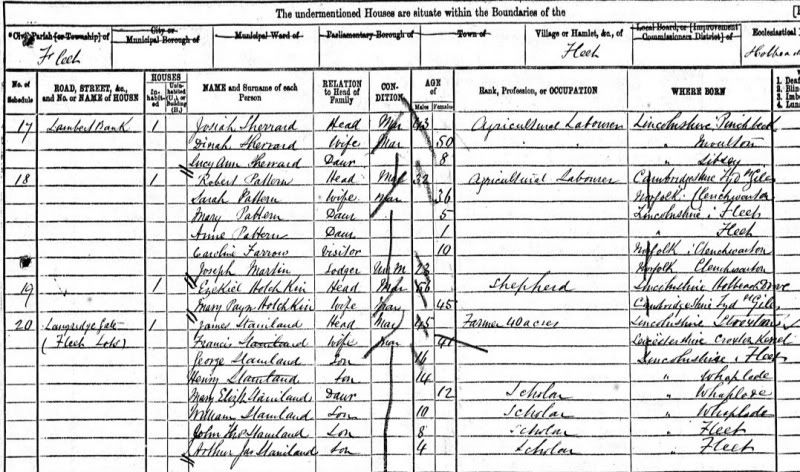 In 1881, I believe I have William is working as a Groom Servant in Long Bennington as the age and birthplace matches up. In the next year or so, I believe William sailed for Australia: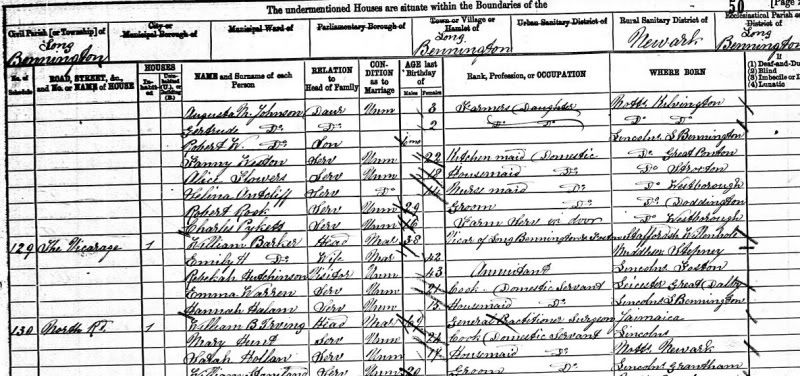 James Staniland
, Williams father. From his census entries above, we know James was born in Stroxton abt 1827, and free BDM shows marriage entries in Jun 1851 for James Staniland and Frances Coates (Jun 1851, District: Grantham, Vol:14, Page: 657) which supports the information on Williams death certificate. The 1851 census was conducted on 31st March (before their marriage), and sure enough Frances is not living with James, who is with his family in Wyville Cum Hungerton (outside Grantham). James is listed as the son of George (b. Ab 1785, East Deaton, Nottinghamshire) and Elizabeth (b. Abt 1791, Branston, Leicestershire):
The 1841 census is far simpler, but supports the above:
So James is living in Wyville Lodge with his father William in 1841, 1851. He lives with his wife Frances in Fleet in 1861 and 1871. In 1881 James and Frances live in Bennington, then Foston in 1891 with Frances, son Arthur and his brother Richard, and appears to live in Foston in 1901 with his wife (aged 74 and 70 respectively), and is still a Farmer, working on 'his own account' rather than having an employer.
I found a St Peter's, Foston cemetery transcript that lists James Staniland being buried on 28 Feb 1906 aged 79 (of course, I can't find the site I used initially to check on Frances).
His children include (but are not limited to) George (b. 1855), Henry (b. 1857), Mary (b. 1858), WILLIAM (b. 1860), John Thomas (b. 1863) and Arthur Jas (b. 1867).
George Staniland
. James' father. In the 1851 census, James is listed as the son of George (b. Ab 1785, East Deaton, Nottinghamshire) and Elizabeth (b. Abt 1791, Branston, Leicestershire). George is a farmer of 250 acres and at the time has a couple of visitors and servants. Their listed children are John, Richard, James and William (all in their 20's) and daughters Elizabeth and Sarah. The boys were all born in Stroxton, the girls in Wyville Lodge, suggesting that William nd his family moved to Wyville Lodge around 1840. The 1841 census reveals additionally an elder daughter, Jane (b. Abt 1821). I believe this is important as you mentioned that an 1865 will by George Staniland mentioned Jane (but not James).
Moving through time, George appears in the 1861 census, aged 78 (with his large farm, and family including grandchildren) in Hungerton Cum Wyville – the property is named 'Staniland Lodge', but his wife appears of have deceased. This is consistent with the burial of Elizabeth Staniland in St Mary & St Peter, Harlaxton, Lincolnshire, buried 11 May 1859, Age 71, abode: Wyville. George does not appear on the 1871 census, but this is consistent with his death in 1865, and cemetery transcripts for St Mary & St Peter, Harlaxton, Lincolnshire, buried 13 Jan 1865, aged 81, abode Wyville.
His children include (but are not limited to) Jane (abt 1820), John (abt 1824), Richard (abt 1824), JAMES (abt 1827), William (abt 1829), Elizabeth (abt 1833) and Sarah (abt 1835).
We currently have a researcher in the area checking on records for us, and she's found "a great Will for George Staniland of Wyville Lodge 1865, however there was no mention of a son James in this Will. A daughter Jane, wife of Charles Growke? in Australia was given £200. Do you know of this Jane? I want to make sure this is the right family before I write for a copy of this Will."
I look forward to getting a copy of it, and also tracking down William Staniland's aunt who moved to Australia!